Innovation for recycling
Question: Is this kind of philosophy reflected in the management of Kao?
Sawada: Of course. At Kao, we are promoting "innovation in reduction," "innovation in recycling" and "social innovations" as the first set of innovations to realize the "Kirei Lifestyle Plan," which is Kao's unique ESG (environmental, social and governance) strategy.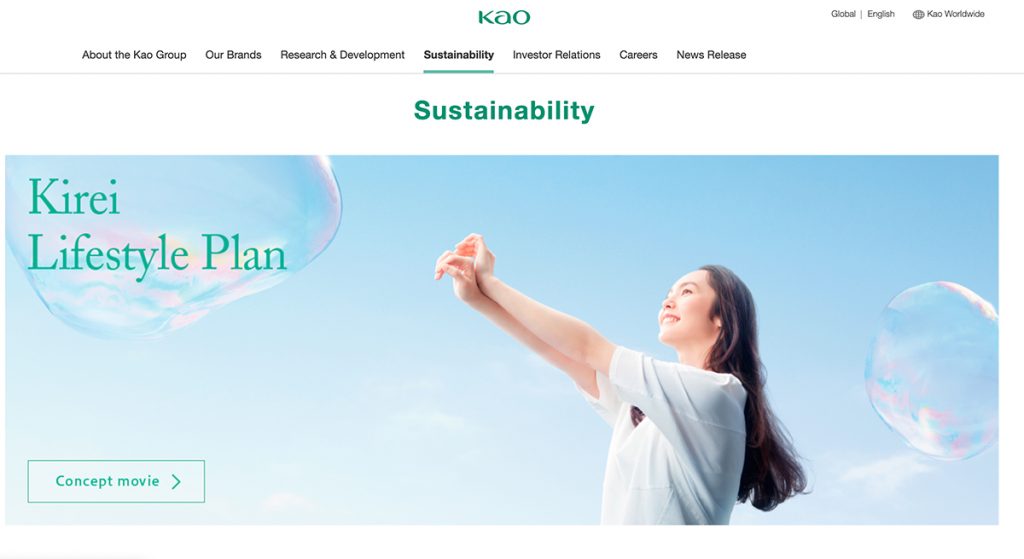 When you think of the issue of plastic waste, "innovation in reduction" is important.
The Kao group set up a recycling science research center and has mainly promoted recycling of refill packs. Specifically, we are working with local residents and partner companies to collect used refill packs for detergents and shampoos and recycle them into what we call "Okaeri-blocks" ( okaeri means "welcome home").
These blocks are assembled into exciting shapes to provide them for useful purposes in communities. We call this program RecyCreation, and many local governments participate in it.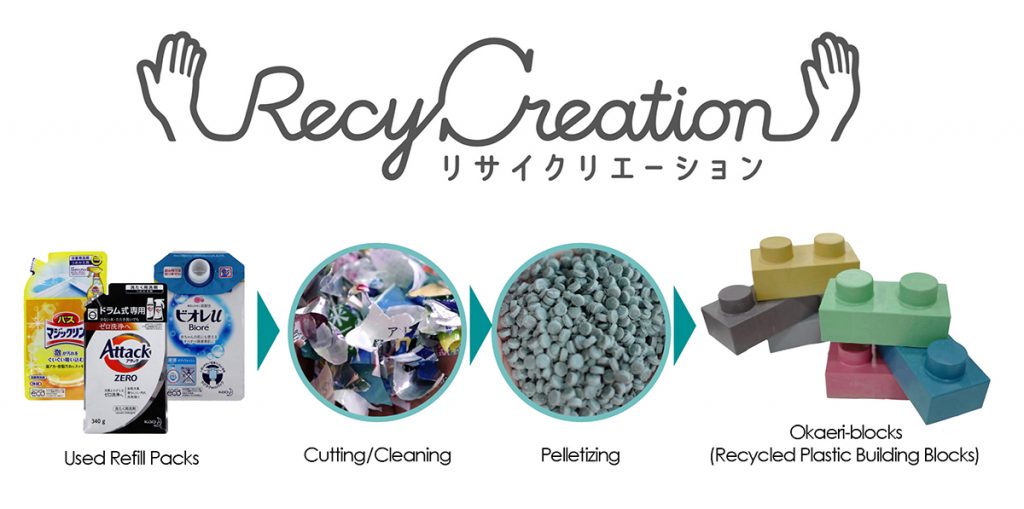 Linkage with technology
Question: In a move to create a new society that is far removed from one built on mass production and mass consumption, the European Union has aggressively promoted the "circular economy" concept, which is set to sweep the market. What do you suggest Japan do in response to such a global trend?
Sawada: I am all for the concept of a circular economy, of course. The issue, I think, is how far can it go in being realized on various levels. There are many problems associated with using discarded products and materials as resources and circulating resources without producing waste.
For example, when we think of recycling plastic containers, we need to think about their collection, separation, cleaning, color and quality deterioration, among other things. There's also the issue of cost.
Materials and products need to be designed on the assumption they will be recycled, and ideas to create a societal system that reduces costs are needed. If relevant parties are serious about it, and not just trying to show off, they'll need to work with technology.
In Japan, I think we can achieve a high standard through collaboration between industry, the public sector and academia, led by CLOMA. If we can develop a chemical recycling process that can take materials back to monomers, then Japan can achieve a high level of success in plastic circulation.