06/15/2019
Japan's global contributions on TCFD, hydrogen, carbon recycling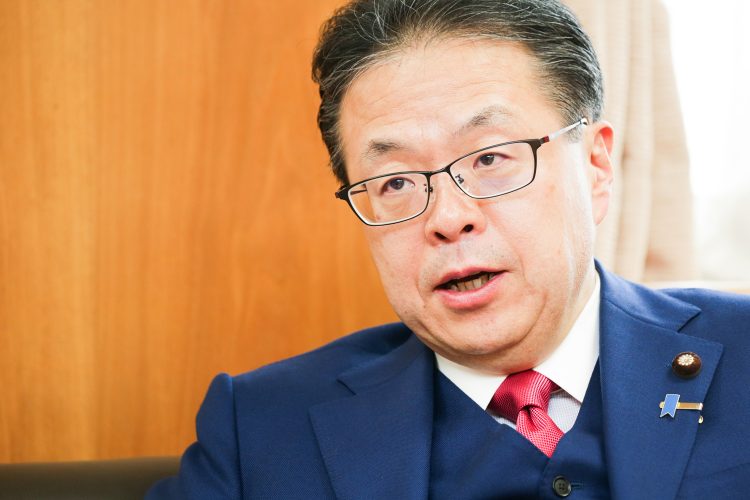 Question: What is your take on the potential of green finance toward the virtuous cycle of environment and growth?

Seko: Moving forward, addressing climate change will not be an undesirable, expensive effort, but rather a source of further growth for business sectors. We need to create growth and innovation in the environmental sector.

To that end, finance is essential. It will be extremely important to have proper financing in place for climate-related innovation.
Each company should be required to disclose information on what efforts they are taking in terms of innovation in the environmental arena.

What's also fairly important is to make a system where companies' efforts are appropriately assessed by financial institutions and finance is properly mobilized.

Question: How would METI support such a movement?

Seko: The government formulated the TCFD Guidance (TCFD: Task Force on Climate-related Financial Disclosures, established by the Financial Stability Board in 2015) last December to promote proactive corporate disclosures on climate-related efforts. Japan was the first government in the world to publish such guidance.

Moreover, as a platform for dialogue for industrial and financial sectors, the TCFD Consortium was launched at the end of May with the participation of companies that support TCFD. The consortium seeks to revise the TCFD Guidance by adding new sectors for sector-specific explanations and best practices of disclosure, and newly create a guidance for green investment for financial sectors.

Through formulating two guidance for companies and financial sectors and holding discussions at the consortium, I hope to prompt dialogues between the industrial and financial sectors on green finance, creating a virtuous cycle.

Question: Would you tell us your plan on how to engage with foreign delegates at international discussions so that the contributions and strengths of Japanese companies receive recognition?

Seko: Efforts to engage in TCFD in Japan have been slow, but these days we've seen a growing number of firms supporting TCFD. Globally, supporters of TCFD include many financial institutions, while in Japan, there is much support from industrial sectors such as manufacturers, which, I think, is creating a virtuous cycle.

I'm hoping to share the contents of the consortium's discussions with the world, rather than limiting such information domestically. As one of the relevant efforts, I'd like to hold a TCFD summit in Japan in the fall this year, calling for participation of leading corporations and investors from around the world.

Additionally, I'd like to promote discussions on the importance of dialogue between the industrial and financial sectors, taking advantage of the opportunity of the G20. I'm considering specifically voicing such a message at the ministerial meeting.

I'd like to share the insight from discussions conducted in Japan on how to incorporate views and opinions from the industrial sector into disclosure and evaluation, which will help Japan lead a global conversation on green finance.

Utilization of hydrogen

Question: Following the Hydrogen Energy Ministerial Meeting held in 2018, how would you like to further discussions on energy transitions and decarbonization at the G20?

Seko: In seriously pursuing energy transitions and decarbonization, we need to have disruptive innovation, which could create a "great leap" forward, rather than relying only on the continuity of incremental innovation that we usually see now.

An advisory panel of experts on Japan's long-term strategy under the Paris agreement has placed hydrogen as one of the important elements for the country's future energy vision. The government's long-term strategy, to be adopted later, considers including a goal to reduce hydrogen cost to less than one-tenth of the current cost by 2050; doing so would make it much cheaper than natural gas.

Japan is the only country in the world thoroughly equipped with a series of hydrogen-related technological capabilities, from production, to storage and transportation, to utilization.

It is very important that Japan, which has such a background, lead the world on this front. We successfully organized the Hydrogen Energy Ministerial Meeting in October and announced the Tokyo Statement. While the progress of the efforts to implement the statement has been widely observed in the world, I hope to organize the second hydrogen ministerial meeting in Tokyo in September.

At the G20 ministerial meeting on energy and the environment, I'd like to hold discussions with participating countries on the importance and possibilities of using hydrogen, which may serve as a key technology for energy transitions and decarbonization.

Until about two years ago, I had the impression that it was solely Japan that was engaged in hydrogen, but the situation has largely changed. Through Japan's efforts to explain the significance of hydrogen, the world has become very interested in the possibilities and opportunities it offers.

Hydrogen received a lot of interest at this year's World Economic Forum annual meeting, where I was the lead speaker at one of the sessions. That is a testament to the growing attention on hydrogen and I think Japan is becoming recognized as a leader in this field.

The occasion of the G20 is an important opportunity to further this cause, and I'd like to create a movement to involve countries from around the world toward a common goal. For fossil fuel exporting and importing countries alike, introduction of hydrogen offers considerable trade and investment possibilities. As many energy-producing countries participate in the G20, I'd like to continue to engage them in the hydrogen discussion.

Question: In March, METI revised the Strategic Roadmap for Hydrogen and Fuel Cells to include a goal of hydrogen usage, seeking to drastically reduce the price of fuel cell vehicles, setting an ambitious target. How do you view this plan?

Seko: I instructed (ministry officials) to compile the road map with a strong will to achieve the goal. I think we managed to send out a concrete message to society.

Regarding the fiscal 2019 budget for measures relating to hydrogen, we increased it by about 50 percent. An increased hydrogen budget shows how serious the government is to this end.