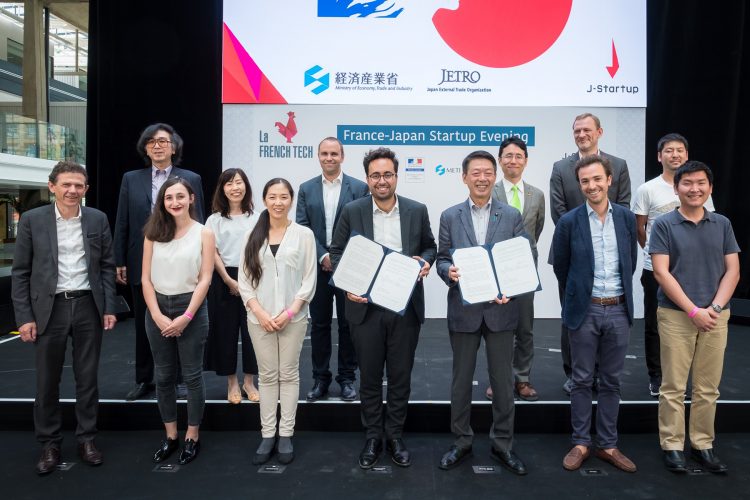 Coinciding with Mercari's stock debut, J-Startup was launched, led by the Ministry of Economy, Trade and Industry. According to the ministry, the program aims to "incubate internationally competitive and winning startups and encourage them to provide new value to the rest of the world through their innovative technologies and business models."

Sixty-six members of a recommendation committee involved in the startup ecosystem have selected 92 of about 10,000 Japanese entities as J-Startup companies thought to have real potential.

Through the community created not only by the government, but also major companies and venture capital entities, the program is receiving intensive support from the public and private sectors. It is also expected to help fundraising and business collaboration along with efforts to raise awareness of the J-Startup brand among domestic and foreign companies, as well as investors.

The government is taking the lead in facilitating a good environment and supporting business development overseas for startups lacking concrete results, opening the door to bidding on government procurement opportunities and addressing requests on regulations.

J-Startup at overseas events
In Paris, there is a facility called Station F that is known as one of the largest incubation offices for startups in the world. It is where U.S. Facebook Inc. rents space with the aim of discovering promising entrepreneurs.

Last summer, Japanese startups visited the facility. As part of assisting in development abroad through the J-Startup Program, a networking event was created between Japanese firms seeking an overseas presence and relevant parties from France. Prior to this event, there was a government-to-government discussion, which resulted in confirmation of a plan to dispatch domestic startups to events in the other's country.

In addition to the event in France, companies from the J-Startup initiative successively participated in other relevant events around the world in 2018.

For example, they took part in the Gitex Future Stars in Dubai in the United Arab Emirates, one of the largest startup exhibitions in the Middle East; the Web Summit themed on startups in Lisbon that typically attracts 70,000 people from around the world; and the Slush startup event in Helsinki. They showcased Japan's innovation through a J-Startup booth at these events.

At any rate, why does present Japan need startups with high ambitions to expand their businesses globally? The answer can be found in the examples from countries such as the U.S. and China.

More and more emerging companies have been launched with digital technology as their driving force, and they have come to operate globally today. Some, like China's Huawei Technologies Co., have grown to threaten large existing corporations and could even be poised to transform the industrial structure.

On the other hand, Japan has gradually seen the launch of companies followed by rapid growth thanks to their latest technology and services, but the number of unicorns and their scale pale against their international counterparts. Some people point out the "absence of role models" in Japan as one of the reasons behind the limited number of people who take on launching startups and of those ventures with high ambitions to make inroads in the international market.

Yosuke Nakamura, researcher at the NLI Research Institute in Tokyo, said: "Companies in Japan have managed to get listed on a stock exchange even if they didn't develop their businesses globally through proactive investment since the country's wide variety of business fields feature a certain market size. In other words, they don't need to be a unicorn to see enough outcome for their growth."

But times have changed. In the era when gigantic information technology platforms dominate the world, companies need to have a global viewpoint and impetus to survive severe competition.

'Friction heat' changes Japan

There have been fierce competitions internationally on generating innovation. Such an environment could push transformations among large companies that are bound by successful experiences of the past.

In order to create new values, they need to overcome existing obstacles such as organizational climates that make it difficult to trigger new ideas, difficulty maintaining staff motivation to take on high-risk tasks and management systems that are slow to make decisions.

"How to establish a network is a common challenge for companies, whether startups or large firms," said Keidanren (Japan Business Federation) Chairman Hiroaki Nakanishi, who also serves as chairman of Hitachi Ltd.

"Japanese companies in the past lacked a culture to nurture personnel who strive to establish their own sense of values with their antennas high," he pointed out. "That's also a fundamental issue for Hitachi as well."
At a social gathering among Keidanren and J-Startup companies held in Tokyo in late November, Nakanishi said, "Going beyond the boundaries of large firms, Keidanren and others, how to expand people's networks would lead to the invigoration of the Japanese economy." He expressed his eagerness to have active interactions among them for value creation.
Those new exchanges could produce a possibility to bring about innovation. Economy, Trade and Industry Minister Hiroshige Seko said of them, "'Friction heat' from (exchanges among) large companies and startups would possibly create something to change Japan."