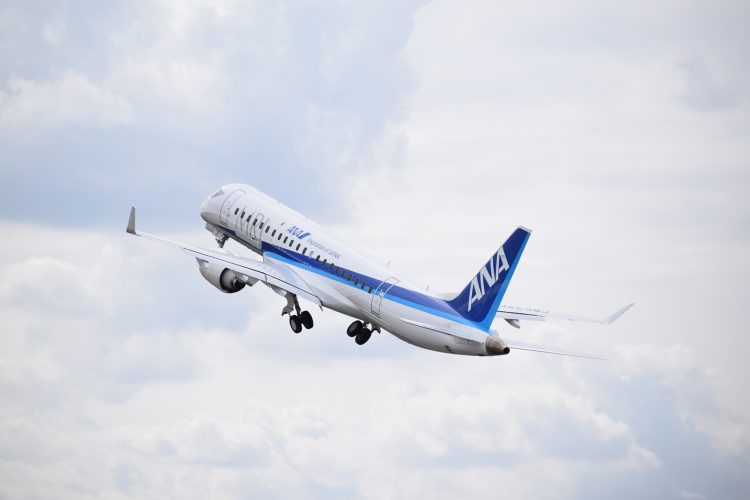 Return to domestic production
MRJ is an aircraft with 76 to 88 seats that is being developed by Mitsubishi Aircraft Corp., a subsidiary of Mitsubishi Heavy Industries Ltd., based in Toyoyama, Aichi Prefecture. This marked the first development of an aircraft in Japan in half a century since the YS-11 airplane, the first domestically built plane after World War II.
Japan's aviation industry has a history of development as a supplier to U.S. Boeing Co. Major domestic heavy industry manufacturers, including Mitsubishi Heavy Industries, have produced parts of Boeing's aircraft such as primary wings. The development of MRJ is significant in that it means building a finished product in Japan, surpassing the position of a supplier.
Mitsubishi Aircraft is scheduled to deliver the first aircraft to its first customer, All Nippon Airways, in the mid-2020s. However, the delivery had been postponed five times as the company has faced difficulties after a long absence of engagement in developing a finished product.
The company has not received new orders in the past two years, possibly because of developmental delays. In such a situation, an airshow plays a crucial role. Two of the world's biggest airshows are the Farnborough International Airshow, held during even-numbered years, and the Paris Air Show, conducted during odd-numbered years. A flying display is an important opportunity for makers to showcase an aircraft's capabilities to airline companies.
Mitsubishi Aircraft displayed the actual MRJ craft for the first time at the 2017 Paris event, but it didn't take flight.
"This time, we were able to show the guests from airline companies (MRJ's) actual flight, which helped us stand at the starting line," Mitsubishi Aircraft President Hisakazu Mizutani said of the significance of the aircraft's flying display.
Appealing performance
Each exhibitor sets up a facility called a chalet and invites executives of airline companies. Chalets line a hill overlooking a runway and exhibitors showcase their flying displays to those watching from a terrace on the chalet's second floor.
Mitsubishi Aircraft invited about 100 guests to its flying display on July 16. "We had guests experience the plane's quietness while it was in flight; that is our selling point," Mizutani said.
MRJ held flying displays for three days during the show. The aircraft performing the display — the No. 3 testing aircraft — was painted in ANA's color scheme, tailored to fit the first customer the plane will be delivered to.
---
The METI Journal asked Aerospace and Defense Industry Division Director Hiroyuki Hatada of the Ministry of Economy, Trade and Industry about the prospects of Japan's aircraft industry.
Question: You observed MRJ at the Farnborough International Airshow. Could you tell us your overall impressions?
Hatada: It is generally seen that MRJ has difficulty on the development front, but actually it has advanced by a large degree and quality aircraft are about to be produced.
It was very meaningful in that such an aircraft was showcased in a demonstration flight in front of guests and spectators. I'm sure that people understood that it was a quieter aircraft. I also had the impression that it wasn't as loud and it flew more smoothly compared to other planes. I'm convinced that MRJ entered a new phase.
Question: You talked with foreign government officials and corporate executives there, but how did you feel about their assessment of Japanese companies?
Hatada: When we talk with those from Western airframe and engine makers, they often say something along the lines of, "We would like to increase business opportunities with Japan," and "We want to meet new Japanese firms." METI has been asked to give some help, which indicates their high expectations of Japanese manufacturing. They are also interested in selling aircraft in Asia, and at the same time, building them in cooperation with Asian counterparts. I felt another expectation placed on Japan as a gateway to Asia.
Question: METI has supported the Japanese aviation industry and its companies, including MRJ. How will the ministry respond to the surrounding situation in light of the inspection and talks this time?
Hatada: Japan has technical strength and there are many firms that seek to enter into the aviation market. In 2017, The Nationwide Network of Aircraft Manufacturing Clusters (NAMAC) was established, with its secretariat based in The Society of Japanese Aerospace Companies.
Connecting with overseas companies through this organization would make it possible to meet expectations from Western countries and the will from Japanese firms to make inroads. I feel that we can draw a scenario that would produce a win-win relationship for both sides and enable the Japanese aviation industry to grow further.
Question: How is NAMAC's activity going?
Hatada: Its portal site was created in February, which enabled people to understand what kind of member organizations are there and their locations, as well as their capabilities. Additionally, it organized matching events between its member organizations and foreign companies in Malaysia in February and Tokyo in June.
Despite the widespread notion that Japanese mid-ranking companies (300 to 1,000 employees), as well as small- and medium-sized enterprises feature high technical strengths, people didn't know what kind of companies are actually in Japan. One of the advantages of utilizing NAMAC is to create a chance to meet several companies at one time.
There are many requests for matching opportunities from overseas to NAMAC and its activity is highly appreciated.