06/22/2018
Minister hopes shared data will transform Japanese corporate culture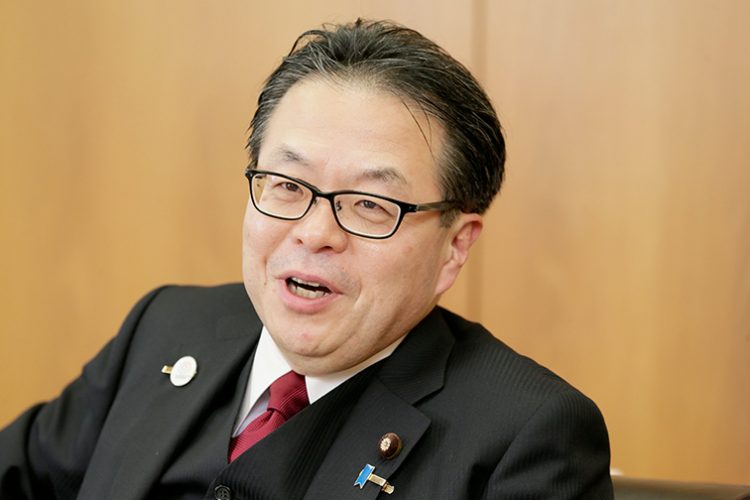 Question: Please tell us, once again, the objectives of CI.
Seko: CI is the industry's concept that aims to generate added value and solve various social problems by enabling connections between a variety of machinery, technology and people across organizations or borders through data.
I announced this concept at last year's CeBIT and held roundtable conferences where we organized the direction the public-private collaboration should proceed in.
We then announced the CI Tokyo Initiative 2017 at CEATEC (Combined Exhibition of Advanced Technologies) held in October and I believe the concept has spread widely.
The five fields to prioritize are "automated driving and mobility service," "manufacturing and robotics," "biotechnologies and materials," "plant/infrastructure safety management" and "smart life." We have been holding subcommittees to accelerate discussions on expanding harmonized fields of data.
In the automated driving field, we have been engaging in cross-ministry initiatives, including working with the Ministry of Land, Infrastructure, Transport and Tourism to promote strategic collaboration between companies.
Also, the main theme of the manufacturing and robotics subcommittee is data sharing. They are looking into standardization of data structures and distribution in order to promote data sharing of harmonized fields of data platforms as proposed by companies that include Fanuc Corp., Mitsubishi Electric Corp. and DMG Mori Co.
Furthermore, the CI initiatives outside the five main fields will improve productivity of small and mid-sized companies and strengthen quality guarantees for manufacturers.
I believe that the essence of CI is to change the Japanese corporate culture to lead change in a new era. The problem that Japan faces is that companies are too exhausted from excessive domestic competition to compete globally.
I want to create a new Japanese industry by reorganizing harmonized and competitive fields.
Role of the public sector
Question: What kind of role should the public sector play in order to expand harmonized fields between companies?
Seko: The public sector needs to develop information technology-related human resources and improve the environment for data utilization with security.
In terms of developing human resources, we need to promote working people to go back to school to learn about the IT and data fields. Last July, we established the Certification Program for Fourth Industrial Revolution Skills Courses.
The government also plans to certify data-sharing businesses and introduce tax-break programs and provide government-held data, based on the bill submitted to the current Diet session to improve the environment for data sharing and data utilization.
We will also revise the Contract Guidelines on Data Utilization Rights to clarify the rights and responsibility related to data utilization and make it more practical based on the characteristics of each industry.
By promoting these policies, I want to expand the harmonized data fields and actualize a CI that will make Japan the winner of the "real data" global competition.
Introduction of IT essential
Question: What do you think about the need to introduce IT to small and mid-sized companies for CI to become prevalent?
Seko: Small and mid-sized companies are facing a pressing need to resolve a shortage of workers and improve productivity, and I believe that CI is an effective method to do so. Also, promoting IT introduction is essential. The Ministry of Economy, Trade and Industry (METI) has adopted measures to secure a ¥50 billion budget to support an estimated 130,000 companies, including small and mid-sized service industries, to promote IT introduction in the 2017 supplementary budget.
We have also labeled the next three years as a period of intensive investment in improving productivity. We will promote the improvement of productivity, mainly introducing IT, to small and mid-sized service industry businesses on a scale of 1 million organizations.
In February, METI launched the Productivity Strategy Platform for SME (small and medium-sized enterprises) Services and Other Businesses, serving as its secretariat and gathering the support of various ministries and organizations.
Currently, six related ministries and agencies, as well as 99 organizations, such as economic organizations, small and mid-sized company support groups, and industry groups have expressed their intentions to participate in the platform and we plan to make a vigorous push to roll out information, know-how and success stories.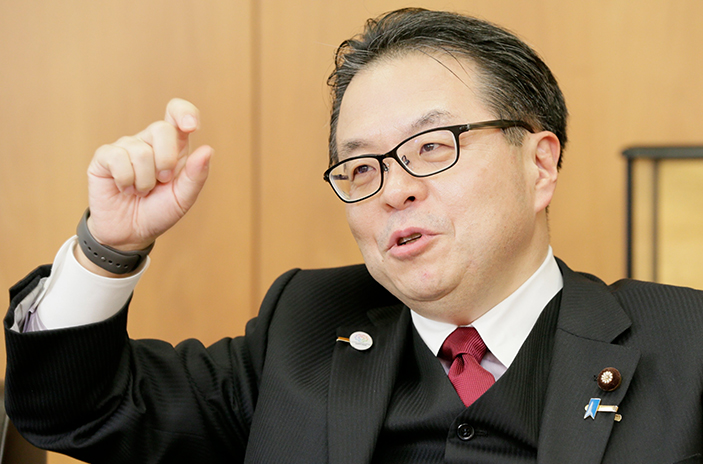 Change 'once in 100 years'
Question: With electrification and automated driving, the automotive industry is seeing a major wave of change. How do you view the role of CI helping the Japanese car industry winning in a time of fierce global competitiveness?
Seko: With electrification getting into full swing in the global market in addition to the arrival of the era of automated driving, the automotive industry is said to be experiencing a major change that comes "once in 100 years."
In regards to electrification, there have been global movements that include China's introduction of NEV (new energy vehicle) regulation to mandate the production of new energy vehicles to a certain degree and the U.K. and France's goal to ban the sales of gasoline-fueled cars. I believe next-generation vehicles such as electric vehicles (EV) and fuel cell vehicles (FCV) will continue to spread around the world.
In Japan, new EV models have been introduced and some manufacturers have begun to engage in joint development through business capital tie-ups. However, it is also true that EV faces various problems including the need to secure battery resources and the length of time to recharge the batteries. It is important to keep an open eye not only on EV, but also FCV to create a structure so the automotive industry can deal with various situations in the future.
Based on the concept of CI, social implementation of automated driving is essential for Japan's automotive industry to maintain and strengthen its competitiveness and continue leading the global market.
I would like to identify issues related to infrastructure, the system and technical issues and provide measures to resolve them through means such as a demonstration test of unmanned automated driving on public roads that began last December and a demonstration test of truck platooning on an expressway that was held in January this year.
Car sharing has also emerged as a new mobility service. The automotive industry is facing a great challenge globally, but I would like to turn this into an opportunity to take aggressive steps to create innovation while all the while utilizing the technical capabilities and industrial competitiveness that we have cultivated so far.
Based on this awareness, I hosted the Strategic Commission for the New Automotive Era this April together with experts and leaders of car manufacturers. We have been discussing Japan's strategy, and plan to proactively deliver messages to the international community as well.
Quality assurance
Question: The manufacturing industry has been hit with a series of quality-related scandals, such as the falsification of data. In what ways is CI effective in strengthening the quality assurance system?
Seko: I believe that the series of incidents could have been prevented, had there been a system in place with such measures as the introduction of robots and the sharing of quality data to ensure that no one could falsify data. Some manufacturers have already introduced such advanced technology and there are companies that have reliable quality assurance systems.
Last December, METI announced measures to utilize data at production sites to push the industry's actions forward in a multifaceted and positive way. We will develop and introduce a centralized traceability system and offer support through budgets and tax breaks for measures to establish a reliable quality assurance system.
Most of all, it is important for corporate leaders to tackle the issue of strengthening quality assurance systems and METI will also continue urging them to do so.