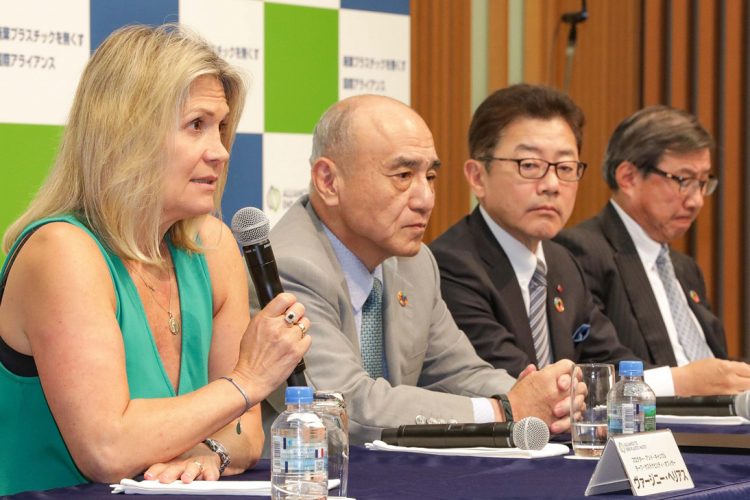 International forum in Japan
At the end of July, a meeting of the Alliance to End Plastic Waste (AEPW), which is an international initiative to address the plastic waste issue, was held in Tokyo. About 500 people, including relevant corporate parties and experts, participated in the forum.
This organization was established chiefly by Procter & Gamble Co., Dow Chemical Co. and BASF SE. From Japan, three major chemical companies — Mitsubishi Chemical Holdings Corp., Mitsui Chemicals Inc. and Sumitomo Chemical Co. — became members.
The 40 member companies participating in this initiative plan to invest $1.5 billion over five years. They have created an outline to facilitate infrastructure for waste management, develop products that are easier to recycle and promote the spread of such products. The outline also includes clean-up efforts to collect waste in oceans and rivers.
At the forum, P&G Vice President Virginie Helias, serving as chief sustainability officer responsible for the company's environmental and social section, pointed out that, "Innovation is crucial to maximize the value of used plastics."
She then called for further participation from the Japanese corporate sector, saying, "Japan has the technology to enable to reuse used plastics as resin."
Hitoshi Ochi, president of Mitsubishi Chemical Holdings, said, "Contributions from Japanese companies are essential at a time when the degree of plastic waste issues in Asia is said to be the most serious in the world."
Sumitomo Chemical President Keiichi Iwata stressed the significance of international collaboration.
"Marine plastic waste issues wouldn't be resolved through an effort by a specific company and industry. So, the AEPW is a groundbreaking alliance," Iwata said.
Hiroki Yokote, director of the Resource Efficiency and Circular Economy Division at the Ministry of Economy, Trade and Industry, expressed a sense of expectation for the initiative.
"What's important in promoting such measures is not implementing a restriction on economic activities. It is an attitude leading to innovation while working on collecting (waste) in an appropriate manner," he noted.
Cross-industrial effort
Looking at the situation in Japan, there is the Japan Clean Ocean Material Alliance, which is working on addressing marine plastics waste issues.
As of July, 238 companies and organizations have become members, including Kao Corp., Ajinomoto Co., Asahi Group Holdings Ltd., Suntory Holdings Ltd, Aeon Co. and Sony Corp., in addition to the above mentioned Mitsubishi Chemical Holdings, Sumitomo Chemical and Mitsui Chemicals. The organization is chaired by Kao President Michitaka Sawada.