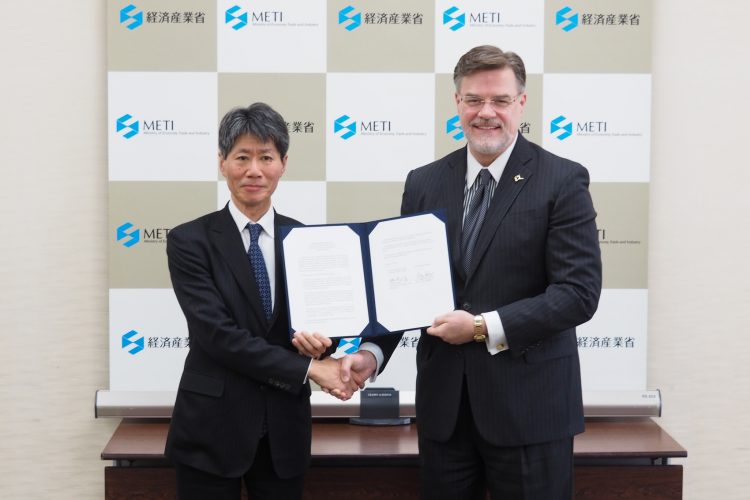 In anticipation of electrification, development is underway in the field of passenger jets that can transport a large number of people. A key in this area is technology, including that involving batteries and motors, which is essential in realizing safety and reliability.
There are many companies in Japan that have developed such technology for the automobile and electronics industries, though they have not yet entered the aviation field. Electrification could bring a paradigm shift to the aviation industry. Partnerships and alliances to be established based on technical innovation for electrification could potentially create business opportunities for Japanese companies.
Reduction of CO2
Boeing Co. Chief Technology Officer Greg Hyslop visited the Ministry of Economy, Trade and Industry in Tokyo on Jan. 15 and met top executives from 10 companies and research institutes including GS Yuasa Corp., Toray Industries Inc. and Mitsubishi Heavy Industries Ltd.
"Japan is a perfect place to look for business partners. I'd like to exchange opinions on a technology plan that would form the future of the aviation industry," he enthusiastically told the executives.
On the same day, Boeing reached an agreement with METI on technical cooperation for the future aircraft industry. The agreed points cover a wide range of areas, including composite production and manufacturing automation. Among them, the electrification of airplanes is especially anticipated.
Just as with automobiles, airplanes are not completely unrelated to the trend of carbon dioxide emissions reduction. While the air transport passenger demand is expected to grow — centering around Asia — 2.4 times by 2037, parties including the International Air Transport Association aim to halve the CO2 emissions in 2050 to below 2005 levels. Airplane manufacturers have advanced development of lesser fuel consumption airframes, but that alone won't provide a complete solution.
Efficiency, weight reduction
Realizing fuel consumption reduction through electrification requires solving issues that are classified broadly into improved energy efficiency and weight reduction.
To that end, it's important to mobilize high-performance motors, lithium ion batteries, magnetic materials and superconductive transmission technology. Additionally, an innovative change from the stages of material development and fundamental technology would be a key.
Component makers have already embarked on research and development in anticipation of electrification. For instance, Tamagawa Seiki Co., a developer of motors and sensors for airplanes, expects growing demand for motors to be used around engines. Mitsubishi Electric Corp. seeks to utilize its power electronics technology such as power semiconductors in this area. Nabtesco Corp., manufacturer of flight control actuation systems, anticipates its devices would be used more if hydraulic drive systems go electric. But for these to be realized, it's essential to implement downsizing and weight reduction, and improve reliability.