09/27/2019
Autonomous driving tests advance the future of transportation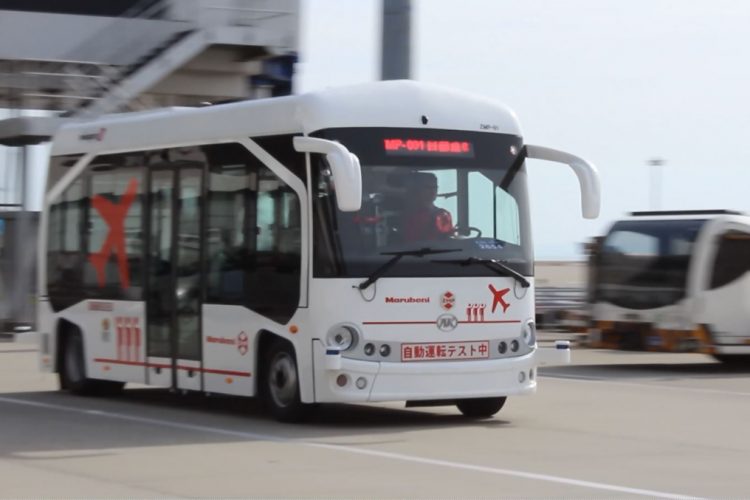 Connecting bus and taxi
A demonstration experiment by the Tokyo Metropolitan Government of a self-driving taxi coordinating with an airport limousine bus is scheduled to begin soon in Tokyo. This project aims to provide a boost to the development of next-generation transportation systems. It seeks to enable smooth access to the city center for inbound travelers, facilitating easier transition from limousine buses to taxis through smartphone apps. This is exactly what MaaS envisions: multiple forms of transportation that are convenient to use.
One of ZMP Inc.'s technologies constitutes a main component in this project. The company first conducted a demonstration experiment of autonomous driving with a driver on board on public roads in Aichi Prefecture in 2014 and went on to expand the testing area.
At the end of 2017, ZMP held a test on public roads for a remotely controlled autonomous driving system without anyone in control of the steering wheel. In 2018, the firm became the world's first company to have a commercial run of an autonomous driving taxi, which occurred between the districts of Otemachi and Roppongi. Through these efforts, ZMP has accumulated much knowhow concerning automotive technology and related services.
Last year's demonstration experiment saw a taxi drive autonomously on more than 90 percent of its operational routes. The company said it received feedback from users saying that they were able to travel at ease using the taxi. With an eye on introducing autonomous driving to service vehicles operating inside airports, Narita Airport in Chiba Prefecture and Chubu Centrair International Airport in Aichi Prefecture have promoted relevant demonstrations. Expectations are high for streamlining operations at airports, which have been extremely busy amid an increase in international travelers.
Responding to needs
Regarding the company's series of experiments, ZMP President Hisashi Taniguchi said: "The experiments are not solely for realizing autonomous driving for cars that exist today. How can we respond with technology to needs that are not fulfilled using conventional transportation means as well as to issues confronting society? I believe MaaS will provide clues."
Concerning any necessities to resolve such issues, he said, "It could be a new form of mobility or a personal robot."
MaaS is about to transform not only transportation, but also the mobility of goods. One such example is ZMP's unmanned shipping service of items sold at convenience stores using delivery robots.
People who order items receive a QR code on their smartphones that serves as a key to a locker housed in the robot. They scan the code using the robot's camera, enabling them to unlock the locker and collect the items. This unmanned delivery system, which also finalizes payment, is the first of its kind in the world, according to the company.
Seeing MaaS from his unique perspective as a robot developer, Taniguchi aims to offer a new mode of transport involving autonomous driving that connects the "last one mile" from users' homes or workplaces to public transportation hubs such as stations and bus stops.
"If it's called 'mobility,' some people might think of a vehicle; but it could be something like a 'partner' to humans," Taniguchi said.