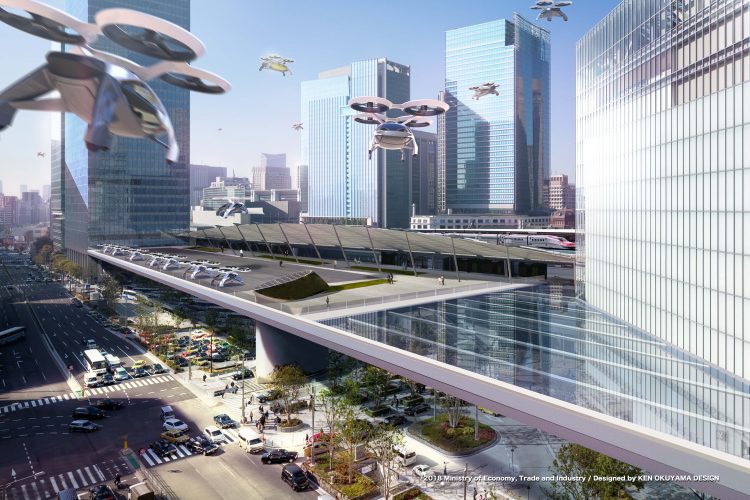 Era of 'running in the sky'
Local municipalities have high expectations for next-generation mobility such as electric vertical takeoff and landing aircraft (eVTOLs) and drones as they could provide solutions to regional issues, stimulate regional economies and promote tourism.
These vehicles are expected to play a wide variety of important roles in different situations. For instance, they could be utilized for students and workers to commute to avoid traffic congestion in urban areas, while they could become familiar and convenient means of transport on remote islands and mountainous areas, as shown in the METI video. Additionally, they could be used for logistics and emergencies in the event of a disaster.

Future urban transportation
With demonstration flights of flying vehicles expected to begin in fiscal 2019, many local governments are working to host them.
At a 2018 briefing session by U.S. major car dispatch company Uber Technologies Inc. on its flying taxi project, Tokyo Gov. Yuriko Koike said, "I'm looking forward to the new initiative opening up a future of urban transportation."
Under the governor, who is very much in tune with innovative technology and who has had a wide range of exchanges with global management executives, the level of commitment of the metropolitan government can be observed from the amount of support it provides to makers that develop relevant technology.
The Tokyo Metropolitan Government decided to provide SkyDrive Inc., the first company in Japan to develop an eVTOL, with up to ¥500 million in subsidies over three years and three months. The company was founded mainly by members of Cartivator, an organization established by volunteers to realize a demonstration of a flying vehicle in 2020 when the Tokyo Olympic and Paralympic Games are held.
SkyDrive President Tomohiro Fukuzawa, who also serves as a co-representative of Cartivator, said, "We are hoping for our vehicles to be used at the times of disasters, for sightseeing, as well as transportation purposes in Tokyo, where more and more foreign tourists visit and an increasing number of people come to live."
The Office of the Governor for Policy Planning at the Tokyo Metropolitan Government has expectations for the early realization of flying vehicles.
"The social implementation of flying vehicles would not only help them become transportation means for the elderly, but also lead to reduced travel time in urban areas," it said.