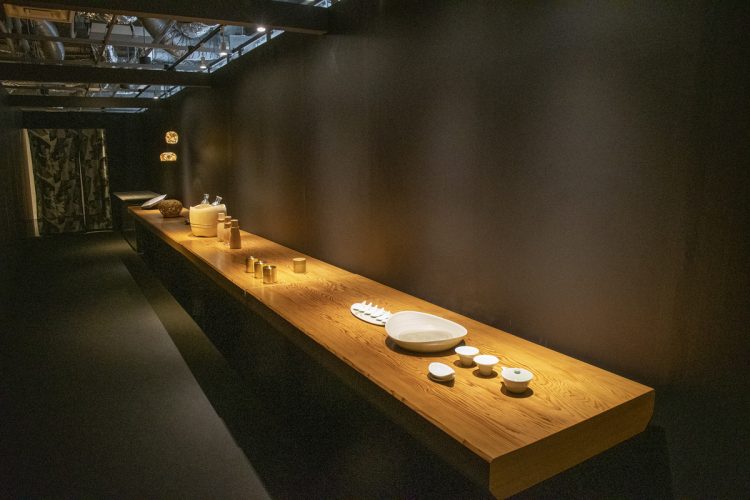 Value through touch
Panasonic Corp. has embarked on creating "future electrical home appliances" based on a new development concept that is a clear departure from conventional development.
The company previously had design centers in Osaka and Shiga prefectures, but consolidated them in Kyoto in April 2018. Through open innovation with the traditional craft sector in Kyoto, Panasonic is pursuing their vision of the next 100 years of home appliances.
Panasonic codeveloped the wireless speaker Kyo-zutsu in collaboration with Takahiro Yagi of the long-established Kyoto-based tea caddy maker Kaikado Inc.
It is the first in a series of products embodying Panasonic's new concept, and a limited run of 100 units went on sale on Nov. 8 at Kaikado.
A striking feature of this speaker is its beautiful cylindrical shape that is crafted from brass.
However, the physical shape is not its only point of interest. The speaker's body can vibrate along with the sound it emits, adding to the sensory experience if someone were to touch it. The device's exquisite interface also allows the sound to be turned on or off by slowly moving its lid up or down.
A creative group named GO ON, which is made up of young craftspeople in Kyoto, supports these manufacturing efforts. Members of this group include the aforementioned Yagi of Kaikado, Masataka Hosoo of Nishijin-ori textile company Hosoo Co., Hosai Matsubayashi of pottery maker Asahiyaki and Shuji Nakagawa of kyo-sashimono (woodwork and joinery) maker Nakagawa Mokkougei. They are all successors of well-established workshops.
Panasonic has fostered close contacts with traditional craft industries, as seen in the example of founder Konosuke Matsushita. He has always supported the activities of artisans, maintaining that "Traditional crafts are the origin of Japanese manufacturing."
But what the company hopes to do now is to capitalize on this connection to create a driving force of new value creation, in addition to protecting and carrying on tradition. The effort is unique in that the company positions it as a business strategy that directly improves corporate competitiveness.
Discussions lead to concept
"How will people seek enrichment in the future?" is a topic that designers from Panasonic, whose area of focus is the mass market, and leaders of traditional crafts, who rigorously pursue their own aesthetics in manufacturing, spent a lot of time discussing. There were many twists and turns before they were able to start discussing future manufacturing from the same perspective.
Hitoshi Nakagawa, a designer at Panasonic Corp.'s Appliances Company Design Center, recalled his experience working with the artisans.
"We spent a lot of time together and had numerous conversations. But discussing plans on paper only revealed our value differences. They showed almost no interest in the documents we created with computers," Nakagawa said.
"On the other hand, their response completely changed when we showed them something three-dimensional, even if it was a rough prototype. At that point, I realized that things wouldn't proceed until we physically created something together. Driven by that, things began to change," he added.