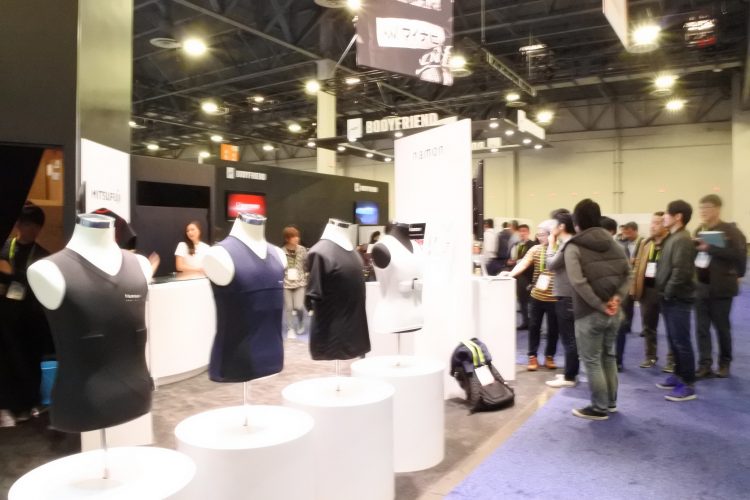 Based in Kyoto, Mitsufuji Corp. develops silver-plated conductive fiber and engages in the development, manufacturing and selling of "smartwear" using such material. Smartwear is a wearable "internet of things" product that is worn like regular clothing and can collect various data from the wearer's heart rate, breathing and brain waves to outside factors that include acceleration, movement, temperature and humidity. In recent years, demonstration experiments of such products have been underway in collaboration with athletes.
This year, Mitsufuji has announced its new corporate mission — "Weaving biometric data into greater human understanding" — to accelerate product development and business expansion.
The company has also been selected as the "Driving Company for the Regional Future" by the Ministry of Economy, Trade and Industry because the firm was evaluated to have an economic ripple effect on local businesses, leading regional economic growth.
Advanced technology
At present, Mitsufuji is constructing a factory in Kawamata, Fukushima Prefecture, at a rapid pace, aiming to hold a completion ceremony on Sept. 2. The evacuation order placed on Kawamata was completely lifted last March, with the remaining order having been lifted for the Yamakiya district.
One of the reasons why Mitsufuji chose the Kawamata Seibu (western) Industrial Park was because of the affinity with the local Kawamata silk business and Mitsufuji's fiber business. Another major reason the company chose the area is Mitsufuji's strong wish to "contribute to resolving various social issues in Fukushima Prefecture, including reconstruction and the low birthrate and aging society."
"We'd like to make further efforts to continue spreading the knowledge of our world-leading cutting-edge technology and Kawamata's new possibilities," said CEO Ayumu Mitera.
"In Kawamata, we hope to create jobs in an industry that is familiar to the local community and provide a spark to generate vitality in the area by bringing a breath of fresh air," Mitera noted. "We'd also like to connect with area residents through jointly hosting various events."
The company's Fukushima factory will be a combination of tradition and the next generation industry — two concepts that may seem contradictory at a glance — as well as the community's hope for reconstruction.
Boosting female employment
Meanwhile, Resela Co., based in Okayama Prefecture, became the first company to open in the Tanoiri Industrial Park in Kawauchi when it completed its Kawauchi Factory at the end of last year and began operations in January. The factory is playing a major role in creating local jobs by manufacturing sportswear, bathing suits and medical supporters.
Like Mitsufuji, the reason why Resela President Toyohiko Miyamoto chose Kawauchi was not only because of its history of having flourished in the sewing business, but for other factors as well.
"Because of the various measures taken to prepare the living environment in Kawauchi, 80 percent of its residents returned. When I heard Kawauchi was planning to build an industrial park, I went to take a look," Miyamoto recalled. "There, I felt that there was a lack of job opportunities for women and I felt we could help with the reconstruction by creating such jobs."
Spreading the Kawauchi Brand
Expressing his determination at the completion ceremony on Dec. 10, Miyamoto said, "I want to help the reconstruction of Kawauchi through the field of apparel." He is thinking to engage in creating and spreading the Kawauchi Brand in the apparel field.
Miyamoto continued: "In western Japan where our company is based, the great disaster has been fading from people's memories as time goes by. Western Japan is known for its manufacturing of uniforms and work clothes, and I hope that we can become a bridge between western Japan and Fukushima. And by spreading the Kawauchi Brand in the apparel field, I hope that many people will feel that they are participating in the reconstruction."
Kawauchi has had other companies, including a major agricultural processing facility. Additionally, Cafe Amazon, the popular Thai coffee shop chain, moved into the area, offering peace of mind to area residents.
"The role Kawauchi needs to play is to become a model district for regional revitalization. I would like to move forward together with the residents with a vision of such grand design," said Yasunori Iwamoto, president of Codomo Energy Co., the company that brought Cafe Amazon to Japan.
The strong will of the companies that have recently moved into the area and the local residents who have overcome an unprecedented disaster have pushed the reconstruction of the 12 disaster-stricken municipalities and is creating a new outlook.
The Fukushima Innovation Coast Framework, a government initiative, has been the driving force of much of this reconstruction.