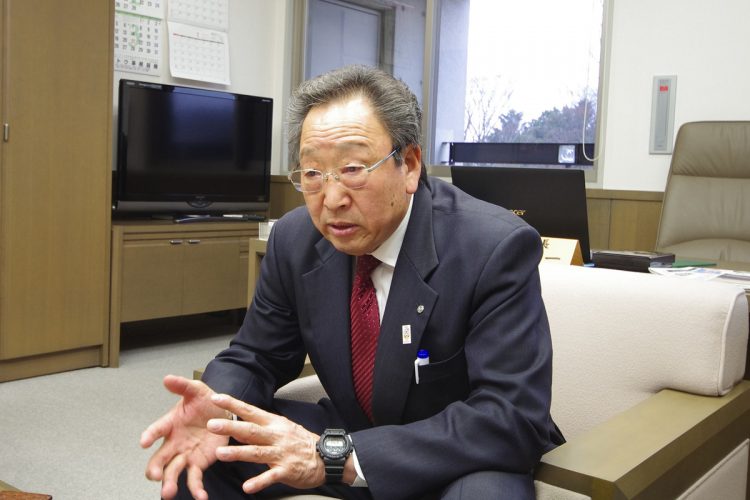 Right after the evacuation order was lifted, Noboru Watanabe immediately quit his job at a construction company and resumed his rice-farming business in Tomioka. This involved removing a massive amount of rocks that were mixed into the dirt.
"Even when I worked temporarily in a company, I always had the feeling that fate would ultimately lead me back to farming in Tomioka. That's why I thought that if I were to farm rice in Tomioka, the sooner the better," said Watanabe.
In the fall of 2017, he succeeded in harvesting 3.6 tons of top-quality Ten no Tsubu rice. Various media outlets showed disaster reconstruction minister Masayoshi Yoshino enjoying the harvested rice.
This April, the town's elementary and junior high schools reopened and a hospital affiliated with Fukushima Prefectural Futaba Medical Center opened to provide secondary care for the Futaba District, including Tomioka.
"I believe the hospital affiliated with the Futaba Medical Center would enable collaboration not just between the (larger) Sousou area (in the eastern part of the prefecture) but also among the advanced medical institutions located throughout the prefecture, improving the environment so that area residents will feel more secure," said Satoshi Imamura, the head of the municipal Tomioka Clinic, expressing his hopes about the new hospital.
On the other hand, there are only around 660 residents as of June 1, compared to roughly 15,830 at the end of March 2011. Tomioka has begun to take one step at a time from the start line on the road to reconstruction.
The METI Journal asked Tomioka Mayor Koichi Miyamoto on March 5 about the direction the town is headed.
* * * * * * * *
Question: It has been almost a year since the evacuation order was lifted last year. How do you feel looking back on this past year?
Miyamoto: First of all, I am very glad that the evacuation order was lifted except for "Areas where Returning is Difficult." Almost a year has passed, but people are not returning. I think it will take more time to have 10 percent of the population come back.
We are aiming to reopen the elementary and junior high schools this April, but the people who are coming back with their children are still young and we especially need to create job opportunities. That's why we are engaged in the development of an industrial park.
In Areas where Returning is Difficult, we have submitted a development plan to the government as a specific reconstruction and revitalization area and are awaiting approval (Note: It was approved March 9). We plan to develop the town in our aim for people to be able to return in five years.
We have finally reached the start line and there are many issues facing us.
Question: Industrial reconstruction is invaluable regarding the return of the population. How are things progressing?
Miyamoto: In Tomioka, there used to be many companies that provided materials and maintenance services for Tokyo Electric Power Co.'s Fukushima No. 1 and No. 2 nuclear power plants. Many of these companies have resumed business at industrial parks in areas such as the city of Iwaki, but we would like to offer support to companies that want to resume business in Tomioka, including securing land necessary to operate.
Additionally, we were able to attract the International Collaborative Research Building of the Japan Atomic Energy Agency's Collaborative Laboratories for Advanced Decommissioning Science, which is part of the Fukushima Innovation Coast Framework program. The research facility relocated from Tokai in Ibaraki Prefecture to Tomioka. It is an important base for the decommissioning process that takes 30 to 40 years.
In this way, a stone has been cast into Tomioka, and I hope that it will cause ripples to bring in companies willing to take on the challenges of decommissioning.
On Feb. 20, we held a matching event (dubbed the Fukushima Future Business Networking Event) in our town between local and external companies based on the theme of robots and decommissioning. It was a big success with more than 50 companies participating and I hope that more such companies will return.
On the other hand, the resuming of commercial business has not seen much progress. It is hard to do business without an increase in people. We have managed to create a shopping space with the opening of Sakura Mall Tomioka, but other than that, currently only a few shops have resumed business, including a gas station and a hardware store.
Question: A few more words on the direction of things moving forward?
Miyamoto: We only have three more years of the Reconstruction and Revitalization Period (2016–2020, set by the national government) but that is not the end. I would like to ask the government to continue to provide support until we complete the reconstruction.
Until last year, we had been holding the festival at Yonomori Sakura (cherry blossom) Tunnel as a "gathering for reconstruction," but starting this year, we have changed the name back to what it was before the disaster, Sakura Festival, to be held for two days on April 14 and 15. Also, this summer, we will resume the fire festival at Hayama Shrine that had been suspended since the disaster.
I hope that these events will become the trigger to bring back the town's energy little by little.
* * * * * * * *
"There are many people wanting to eventually move back or to continue to stay involved with the town, even if they cannot return just yet for various reasons. I hope that such people can come together to create some kind of flow," said Dai Fujita, senior managing director of Torifuji, a company that operates a restaurant in Sakura Mall Tomioka.
"It's fun to see the faces of the gradually increasing Tomioka locals alongside the workers engaged in decontamination and decommissioning from behind the restaurant counter," he said.
The town known for its sakura (cherry blossoms) is steadily making its way forward toward reconstruction and new urban development.