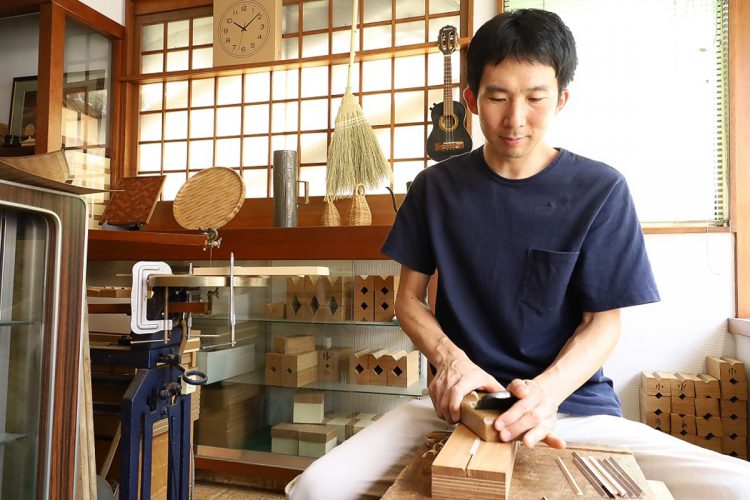 A pop and modern style
Hakone yosegi-zaiku (Hakone marquetry, or decorative woodwork) dates back to the latter half of the Edo Period (1603 to 1868). The Hatajuku district in Hakone, Kanagawa Prefecture, is said to be the birthplace of this renowned craft.
Artisan Yuta Shimizu, 39, established his workshop luthier in Hatajuku on the old Tokaido coastal road linking Edo (present-day Tokyo) and Kyoto almost 10 years ago.
Hakone marquetry is famous for its elaborate geometric and mosaic-like patterns that showcase the natural beauty of the wood. While the products created by Shimizu are rooted in tradition, people can also get a sense of their pop and modern style. Some of his products are distinctive, including one in which the design appears as if the wood grains are interwoven and another which is spherical in shape.
"I strive for my wood art to present a somewhat lively and joyous image that makes people break into a smile," Shimizu said when describing his thoughts on his art.
Shimizu's products have attracted widespread attention because they appear distinctly different to conventional woodwork items. As such, he has had more opportunities to showcase his work.
Shimizu's Chiritori (dustpan) was formed from a thin sheet of decorative woodwork, which was then superbly rounded to give the product its final shape. Shimizu created this item based on requests from craftspeople of similar ages who make Nakatsu hōki (dry brooms). The brooms were also traditionally produced in Kanagawa Prefecture.
The broom-makers asked Shimizu to create a dustpan that would complement their products. The brooms have many fans who think they are beautiful day-to-day items.
Other products created by Shimizu include a musical instrument, spherical toys and okiagari-koboshi Japanese tumbling dolls. The products boast a gentle wood grain and are pleasant to the touch. Some of these items are used at nurseries in Tokyo, among other places.
Venturing into the unknown
Shimizu had no previous connections to Hakone as he was born in Tokyo and raised in Niigata. Learning about marquetry by chance while on a trip to Hakone during his college days drastically changed the course of his life.
While his college friends started job hunting, Shimizu applied for an apprenticeship under Katsuhiro Kanazashi, a certified traditional craftsman in the area. This was because Shimizu was awed by the master's attention to detail and highly developed skills.
Kanazashi is famous for creating marquetry trophies for first-leg winners of the annual New Year's two-day Tokyo-Hakone collegiate ekiden road relay. Kanazashi is also known as the leader of the muku technique, where base wood sheets are shaved to make various products. Thanks to this technique, he can create specialized patterns in his work.
Shimizu's own products speak of his training under Kanazashi.