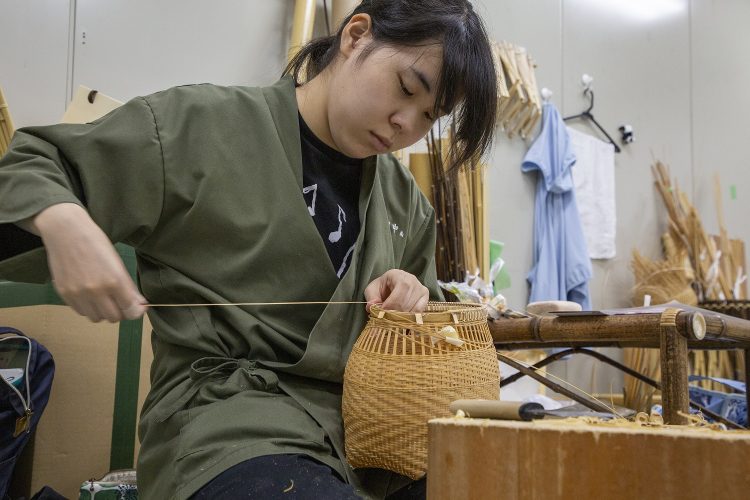 Supporting individual dreams
Historically, traditional craft sectors have been supported through a model where traditions are handed down through a strict apprentice system or through familial inheritance. Some businesses keep their unique techniques to themselves.
In anticipation of changing times, Traditional Arts Super College Of Kyoto (TASK) was launched in the city of Nantan in 1995. Its aim is to "nurture successors of traditional crafts, and create new trends through a collaborative industrial-government-academia effort."
About 380 students study at the school, which is in its 25th year. Particular to the school is its all-encompassing curriculum and practical sessions.
The school offers 11 majors, including Japanese Lacquer Craft, Bamboo Craft and Stone Carving, all of which are unique to the school. In each major, students can choose either a path for "professionals" to master the craft, or one for "creators" seeking to utilize relevant skills and knowledge for their future careers.
Around 80 percent of the classes comprise practical sessions and exercises taught by certified traditional craftspeople or masters. Students learn not only relevant techniques and artistic sensibilities, but also about the essential points of manufacturing.
Sakura Adachi, 21, a third-year student majoring in Japanese Paper Craft, puts in literal sweat when producing traditional washi paper.
"I'm very excited to think that many people will see the results of our work," Adachi commented.
Instructor Yumiko Moniwa teaches Adachi. "Though paper production is taught based on local Kyoto Kurotani washi techniques, we make sure that students have the skills to work at various production centers after graduation," Moniwa said when describing some of the characteristics of the school's paper craft major.
Second-year student Takahiro Ito, 20, who majors in Kyoto Tegaki Yuzen (handwritten Kyo-Yuzen painting and dyeing techniques), recalled his motivation for taking the major.
"I was brought up in an environment where I was familiar with tea and kimono because my family in the city of Uji is involved in matcha production," Ito said. "We can learn this dyeing method at other schools, but I wanted to learn it directly from a teacher who is a certified traditional craftsperson."
Ito wants to follow a career in yūzen.
Tsukasa Mochizuki, 21, majoring in Wood Craft, had plans to study health care but changed her mind when she was a third-year student in high school.
"When I learned about the role of color and its basis in painting wood my mind exploded — 'This is it!'" the third-year student said.
Fourth-year student Yuki Iimura, 21, who is majoring in Buddha Engraving, was working diligently on her graduation piece when interviewed by the METI Journal. The Tokyo native had no previous connection to Buddhist statues, but a chance encounter seeing how the statues were made deeply impressed her, prompting her to follow this path.
Chisato Suto, 20, majoring in Metal Craft, first learned of this particular craft when she was at a high school affiliated with an art university.
"I felt attracted to craftworks that people can actually use on a daily basis as opposed to strictly artistic objects. So, I got into this world," the third-year student said.
Suto aims to create products integrating both traditional and contemporary elements.