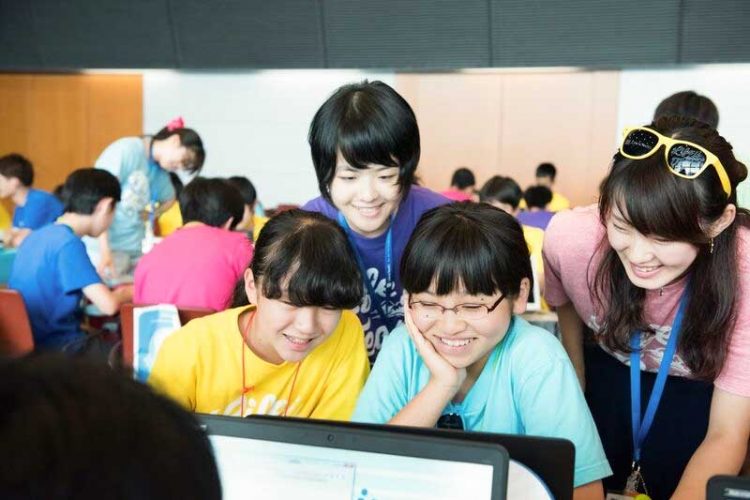 Aided by artificial intelligence
A teacher standing in front of a blackboard oversees a large class — this image of the typical classroom has persisted for more than 150 years since the Meiji Era.
Daisuke Inada, CEO of atama plus Inc., which provides study support through artificial intelligence, says he wants to drastically transform this long-lasting image. He jointly founded the company, based in Tokyo's Chuo Ward, in April 2017 with two of his classmates from his alma mater, the University of Tokyo, after working at a major trading house.
The company offers an approach that utilizes AI to analyze a customer's learning history, degree of concentration and propensity for mistakes on a real-time basis. This enables the firm to provide customized learning materials for each individual. Although the service has only been around for a year or so, it has been increasingly utilized by major private preparatory schools.
The advantage of using AI is being able to unfailingly identify the root cause of why a student is unable to solve a problem. For example, the sine formula is something first-year high school students tend to struggle with. People generally believe that simply solving similar problems over and over would eventually lead to overcoming their struggles. However, the reason behind this difficulty varies among students.
One student was told through the service that the reason of failing to solve a sine formula problem was their lack of understanding of what a triangle's circumcenter is, which is necessary preliminary knowledge. The student went on to be advised that it's efficient to review the Pythagorean theorem, which is taught in junior high school. The company says if a student works on solving problems for a while, its AI can figure out their strong and weak points, as well as the student's level of understanding.
Inada hopes to halve the required time for basic learning through the company's service and to enable students, using the surplus time, to nurture abilities to live independently in the future society. He thinks teachers would be able to play a primary role such as encouraging and taking care of students, without having to engage in a one-way lecture, if AI and humans share roles; with the former committing to teaching and the latter to coaching.
Winning hearts of test-takers
Affectionately known as "stapura," a portmanteau of "study" and "plus," and popular among students preparing for entrance exams, Studyplus Inc. based in Tokyo's Shibuya Ward offers an education-related app. The company is famous as a platform provider for such students with more than 3 million users.
If a student types when and how much they studied, as well as reference books they used into the smartphone app, those pieces of data would be visualized with graphs showing daily, weekly and monthly records. On first glance, it merely appears to be a digitalization of one's study history, which used to be recorded manually. However, the company's service has various features to grab the interest of the digital native generation whose smartphones are always with them.
One of them is the utilization of social networking services (SNS). Some users have said that they would like to boost their motivation by actively interacting with students aiming for the same schools, rather than with close friends, as they prefer not to discuss such topics with them. To meet this demand, the company enhanced its SNS functions, leading to a sharp increase in its app's users. Additionally, increasing numbers of cram schools and private preparatory schools have used the service, hoping to keep tabs on their students' study progress at home.
"All in all, what matters is motivation." This phrase that came up frequently in conversations that Studyplus President Takashi Hirose had with his friends when he was a student preparing for entrance exams. These conversations served as the origin of the development of the service.
"In conventional education, viewpoints from the teaching side were stronger and students' individual characters and differences among them were not taken into consideration," Hirose said. "If technological help is introduced, a proactive learning style would take root among students. How to fuel motivation will be a key in the process."
Talents in programming
Based in Tokyo's Minato Ward, Life is Tech Inc. is a company leading a new market of programming education. The firm currently focuses on developing online learning services in addition to its core business of operating camps and schools where junior high and high school students study programming and IT.
One of the products resulting from the company's efforts is a set of educational programming materials that launched in April. The firm signed a license agreement with The Walt Disney Co. (Japan) for these materials, which feature an enhanced taste of entertainment to raise the continuity rate — a challenge of online learning. The product features works to maintain user interest here and there, including popular Disney characters who appear in its lessons and the "Book of Magic," provided offline that works with the online content and stories.
It has sold well, despite costing ¥128,000, which is by no means inexpensive. Not all of the purchasers have prior experience with programming. However, according to the company, some consumers believe it's actually a bargain if it's viewed as an investment since they can enjoy learning programming, a beneficial skill for their futures.
Superheroes in IT field
Life is Tech was founded in 2010 by CEO Yusuke Mizuno, who used to work as a part-time teacher at private Kaisei Senior High School in Arakawa Ward, Tokyo. It is one of the well-established companies among edtech startups.
What led to the launch of the company was an inquiry from one of his students at the high school, who said, "I'd like to create and introduce a self-built game at the school's cultural festival." Mizuno thought there must be a similar number of students who like computers and IT as those who are fond of baseball or soccer, but there were no places where they can learn or opportunities to take chances in those fields.
Mizuno has worked on expanding the base of personnel in programming. "We need a system to produce superheroes in the IT industry — something like we see in the baseball world where there is a path to go professional following a successful career at Koshien," he said. Koshien is a famous national baseball tournament for high school players held at Hanshin Koshien Stadium in Nishinomiya, Hyogo Prefecture.
Eight years after launching his company, he feels social changes surrounding programming education, which has led to the expansion of his company's businesses. Besides the introduction of compulsory programming education at elementary schools in the near future, close proximity to IT — thanks to the widespread use of smartphones — has spurred on motivation among students to learn.
At the Teens Apps Awards contest where junior high and high school students compete in developing smartphone applications, many students who participated in the camps organized by Life is Tech have won prizes.
Many students have come to share awareness and sentiments such as, "I'd like to do it by myself," and "Programming is not a special skill." According to the company, this occurs after they actually see their peers in the same generation solving problems faced by family members or have come to bring their everyday ideas into being, with the help of technology.
A market of $40 billion
According to American consulting firm Frost & Sullivan Inc., the average annual growth rate of the edtech market is estimated to be 18.3 percent. The market revenue is expected to grow to over $40 billion.
Some people point out that Japan lags behind, especially in introducing technology to public education. However, Inada of atama plus said: "It's the same anywhere in the world in that it takes time to transform the classroom. Once the national strategy becomes clearer, Japan would rather have more rooms to have explosive growth in introducing such technology."
Mizuno of Life is Tech has his eyes on developing the service overseas, noting, "High-quality Japanese educational materials have been well-received in the U.S."
Japan has embarked on educational reform, adding the promotion of edtech to the government-led initiative of the so-called human resources development revolution. The edtech market has been driven by fledgling startups, but these days, major firms are active in mergers and acquisitions in this field. Edtech is possibly about to kick into gear after going through this period of growth.