09/13/2019
Competitors come together in effort to boost mobility innovation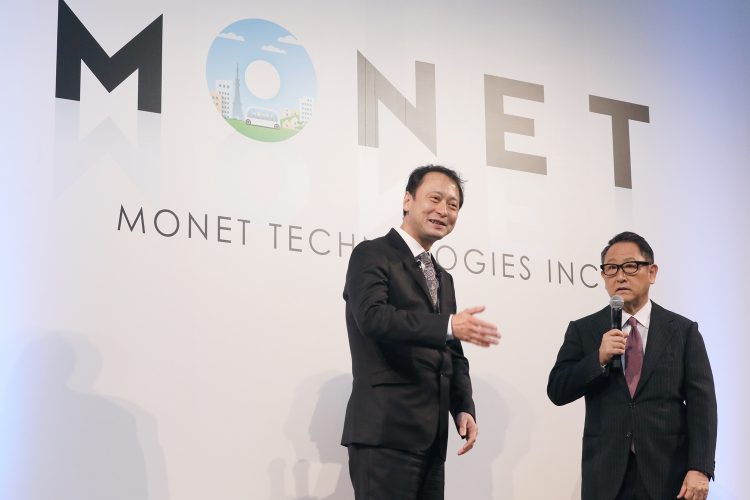 Creating a platform
"We were able to take the first step for collaboration in an open manner among companies in the automobile industry," Toyota Motor Corp. President Akio Toyoda said at an event on March 28 in Tokyo.
His remark came at the business strategy briefing for Monet Technologies Inc., a joint venture of SoftBank Corp. and Toyota.
At the event, capital and business tie-ups were announced among Hino Motors Ltd., Honda Motor Co. and Monet, in addition to the launch of a consortium to attract partners to develop next-generation mobility services. About 90 organizations expressed their intention to join the consortium.
"We hope that in 20 years Monet will be the most indispensable company in Japan," Monet President Junichi Miyakawa said on its future prospects. "We'd like to develop Monet to play the central role among the MaaS 'platformers.'"
Innovation of MaaS lies in that it facilitates the smoother use of various transportation modes utilizing digital strength, so moves for alliances centered around data have been active.
At the end of May, Odakyu Electric Railway Co. announced a tie-up with several companies, including Japan Airlines Co. and Kyushu Railway Co. (JR Kyushu), on data infrastructure development for MaaS apps. The railway company plans to conduct a trial featuring this app at various places, including the Hakone area in Kanagawa Prefecture.
In the adjacent Izu region in Shizuoka Prefecture, East Japan Railway Co. (JR East), in teaming up with Tokyu Corp., has been working on tourism promotion through MaaS.
Next-generation mobility
MaaS is not something simply connecting various mobility services.
Utilizing the latest technology such as autonomous driving and artificial intelligence, it works to optimize routes and timetables based on supply and demand and dispatch vehicles effectively. Such a system is currently in the demonstration stage.
Additionally, MaaS features additional potential in that it is expected to help spread next-generation mobility such as autonomous driving vehicles, as well as contribute to the sophistication of conventional mobility services and create additonal value for them.