Specifically, the government is supporting activities between businesses, including matching and technological development support, to strengthen collaboration between Japanese companies and Boeing, Airbus SE and Safran S.A., a French engine original equipment manufacturer (OEM). This is being done through a cooperation deal on future technologies based on a memorandum METI signed with Boeing in 2019, as well as a cooperation deal between METI and the French Civil Aviation Authority.
For Japan's technology to establish a solid position, international standardization activity well in advance of product introduction is just as important as technological development. Due to language barriers, Japanese companies tended to lag behind European and U.S. companies in joining discussions on international standards. To improve the situation, METI is actively engaging in efforts, including collaboration with the Japan Aerospace Exploration Agency's Electrification Challenge for Aircraft consortium, dubbed Eclair, and a new group within it, to encourage as many companies as possible to participate in international standardization discussions
This support will be needed if the technological advantages of Japanese companies are to bear fruit.
"Japanese companies already have strong presence in the materials field, especially for their carbon fiber reinforced plastics," Murahashi said. "In addition, the technologies Japanese companies have developed, including automotive batteries and motors and the technology for land-based hydrogen gas turbines, are attracting attention from overseas aircraft OEMs."
"In particular, in the areas of electrification and use of hydrogen, we have high hopes for companies originally not involved in the aircraft industry to participate in the aircraft supply chain," Murahashi said. "The aircraft industry is said to have a high entry barrier, including the difficulty of obtaining certification, so we at the government aim to provide solid support."
To ensure Japanese companies take maximum advantage of their strengths, the government is working hard.
Following the aforementioned declaration by Prime Minister Yoshihide Suga, the government has announced a plan to establish a ¥2 trillion Green Innovation Fund under the New Energy and Industrial Technology Development Organization, also known as NEDO. The plan is to support, for the next 10 years, efforts for research and development, testing and practical implementation by companies recognized as committed to achieving specific goals for the development of key innovative technologies that can help achieve carbon neutrality. As for specific projects in the aircraft industry, the government is considering supporting research and development and practical implementation efforts for core technologies essential for realizing hydrogen-powered aircraft, including storage tanks for liquefied hydrogen and aero engine combustors. In addition, NEDO also has ongoing projects in areas such as aircraft materials and electrification.
Realizing hydrogen-powered aircraft requires developing not only planes and engines, but also airport infrastructure to handle hydrogen fuel. There are many issues that require analyzing, including transportation, storage and fueling equipment, as well as installation of the necessary facilities. For this, input from wide-ranging circles is required, including airlines, energy-related manufacturers, aircraft makers and related government entities. To bring together their know-how and speed up discussions on infrastructure for hydrogen aircraft in Japan, METI plans to assemble a study group to consider infrastructure for hydrogen aircraft this summer. The outcomes of the talks will be shared with other governments to establish a collaborative framework with them.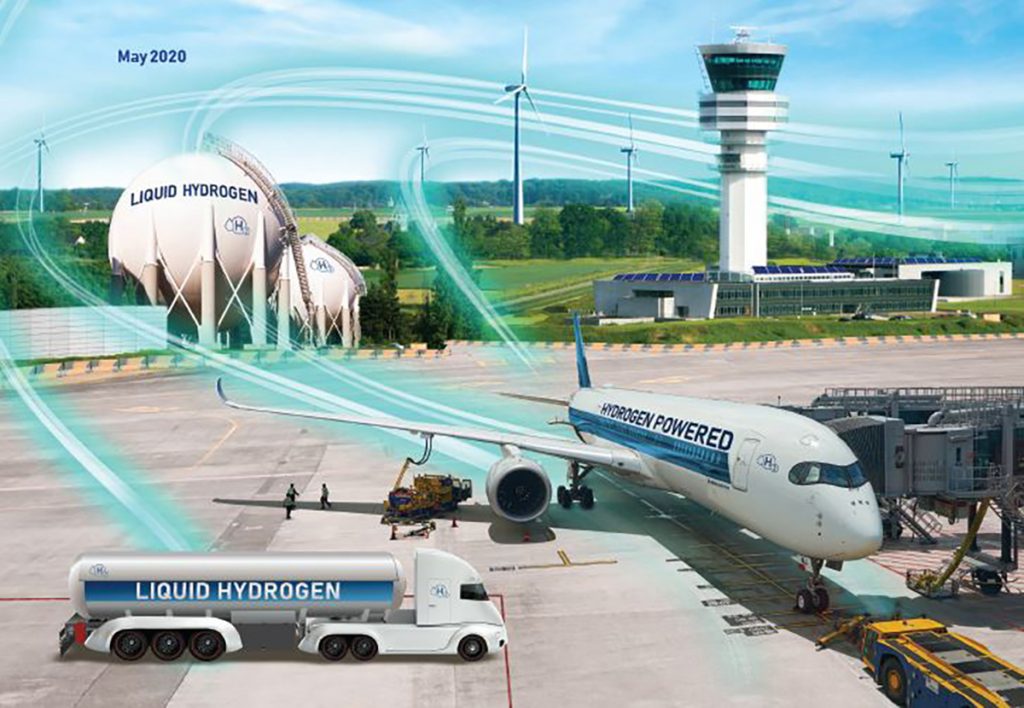 Now is a crucial time to help Japan's aviation industry prepare for hydrogen takeoff, especially as the whole industry remains paralyzed by the COVID-19 pandemic. The Japanese government has launched wide-ranging efforts. An important question to ask is how it can deepen collaboration with overseas entities quickly while helping Japanese companies take advantage of their competitive edges. It appears the key is to use their technological strengths and abilities to negotiate their way to maximum use.