Absolutely essential
There are companies that have established strong positions as essential, important partners for client companies' supply chain strategies by achieving large shares in the market for components and materials essential for making completed products.
One such company is Hirose Paper Mfg Co., in Tosa, Kochi Prefecture, which makes specialty industrial paper products using nonwoven fabrics. The company became known internationally for its separators used in alkaline dry batteries, but its strong competitiveness in recent years is driven by filter materials used in separating or eliminating impurity in food and pharmaceuticals production, as well as for drainage purposes. The product's global market share is now 70 percent. Nikkiso Co., a Shibuya Ward, Tokyo, manufacturer of aircraft components and specialized pumps and systems, developed the world's first cascade — a component used in thrust reverser systems in aircraft — made of carbon fiber-reinforced plastics that have since been recognized as the standard for such aircraft components. The product has been used in a wide range of models built by Boeing Co. and Airbus SE, two of the leading aircraft makers and other regional jets and its global share is over 90 percent.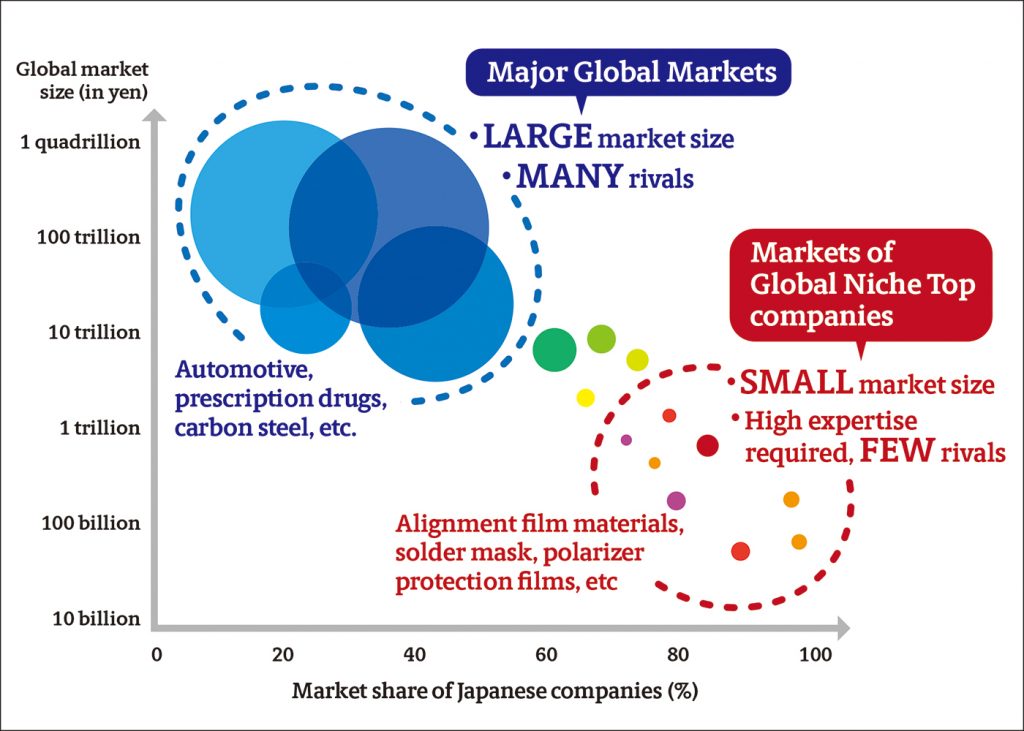 Inimitable technology
Still, other global niche top companies have carved markets of their own with high barriers to entry through a dedicated effort to differentiate their offerings, refining their unique technologies and manufacturing methods.
These include Japan Analytical Industry Co., in Tokyo's Nishitama district, a company whose separation and purification systems have a global share of 90 percent. The company is focused on niche products that larger rivals do not manufacture, using a unique technology that recycles solutions. Fujiiseiko Co. in Kurate, Fukuoka Prefecture, manufactures ultraprecision metal molds used in making products such as electronics components for smartphones. It has developed a medical instrument used in glaucoma surgery, and is aiming to expand use of its technology for more medical purposes. Fujiiseiko supplies this product to a U.S. ophthalmology machinery maker that has developed a new treatment method in which specialized devices are inserted into the cornea using exceptionally small needles. It is now used in 30 countries.
The companies mentioned in this story have won the distinction as GNT companies after overcoming high standards required by demanding customers and technological hurdles, while adapting to changing business environments. Their success stories are a driving force for the next phase of their growth.