Selectable wavelengths
A key feature of the technology, which Polar Star Space worked with researchers at Hokkaido University and Tohoku University to develop to a practical level, is that users can choose wavelengths according to the target and purpose of measurement. Furthermore, it can identify with a high level of precision subtle changes that the human eye simply can't. It achieves this by seamlessly working with an ultrasmall satellite or drone, depending on the scope needed to be captured and the desired degree of precision. If the purpose is capturing data on the ground, it can even use a small spectrometer that attaches to a smartphone. The diversity and flexibility of Polar Star Space's technology "will radically expand the scope in which spectrum measurement can be applied and used," Nakamura said.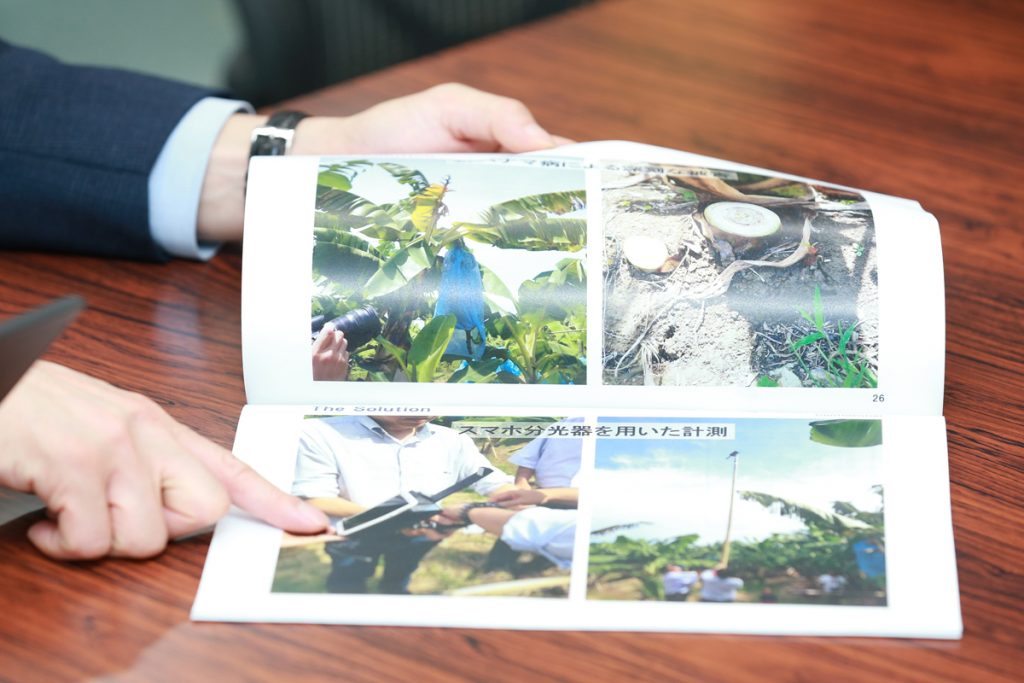 Benefits on the horizon
The company has set 2021 as its target to begin providing high-precision spectrum, on-demand measurement services using ultrasmall satellites. Until then, it plans to promote simple smartphone spectrometers and build on its track record in wide-area measurement using drones. The company has tied up with a drone startup launched by researchers from the Massachusetts Institute of Technology, aiming to develop technology that can better serve in disaster prevention in Japan, which is prone to large natural disasters. Polar Star Space's technology is being considered for use in disaster reconstruction support and maintenance work for energy infrastructure.
Summing up his passion for his work, Nakamura said: "When you think of space development, you tend to think of blasting rockets and satellites into space. I think the meaning of doing this is to create services that can make people around the world aware that the data obtained has made their lives richer and more convenient."
Nakamura's sense of mission may be the polar star that guides him, as he continues to launch a variety of wide-ranging projects, visiting project sites and accumulating field data.