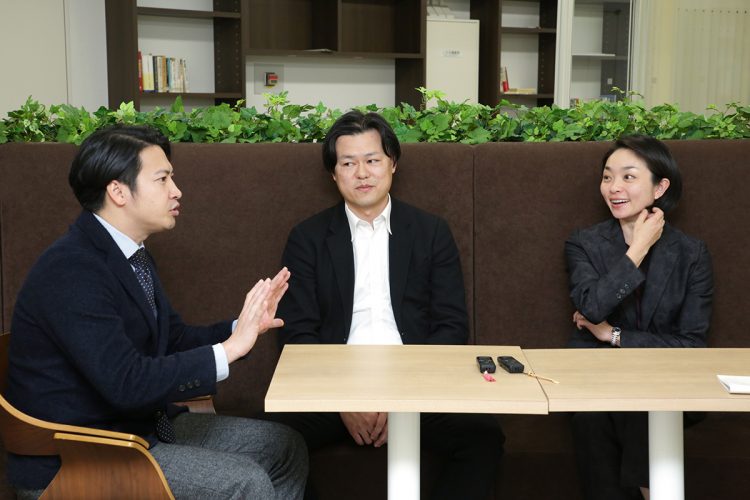 Competition and education
Koizumi: AI Quest is a program aimed at creating a place of practical learning, mainly using case studies based on actual issues experienced by businesses.
Conceived on our belief that personnel development is essential for a wider introduction of AI in society, the program was carried out from October to February, with about 200 participants. Saito and Orimo helped us in many respects of the program, including development of educational methods, such as material development, operation of the program and review of its impact.
There are many examples of developing AI specialists using advanced methods. For example, a programming school in France, called "42," charges no tuition fees but it conducts a monthlong, round-the-clock test. Meanwhile in the United States, there are people who pay high tuition to attend schools because internet companies, including GAFA (Google, Apple, Facebook and Amazon), are hiring AI specialists at high salaries.
So overseas, such intense competition between people seeking to enter the industry has partially driven the development of education.
Saito: Naturally, if the size of the job market where one can play a viable role is significant, it serves as an incentive to learn. The U.S. has an established design of a game in which people who have solved a problem can take control of business, but Japan is still in a phase where such a game is being created.
That is why it is important to show to the public an image of talent who can generate economic impact through specific achievements capitalizing on AI, which will help increase motivation for learning — not just the vague air of us doing an AI-related project.
I think it is necessary to create an ecosystem where such individuals will play an active role in accelerating an increased use of AI in society.
Orimo: But in Japan, we have an issue to solve before setting an ideal talent model. Our problem is that, in Japan, corporate and personnel strategies aren't linked together. Personnel measures are carried out without clearly defined job descriptions. It's often unclear what types of talent you have on your team. When you're thinking of corporate strategy for the future, you're not sure how many digital specialists may become necessary.