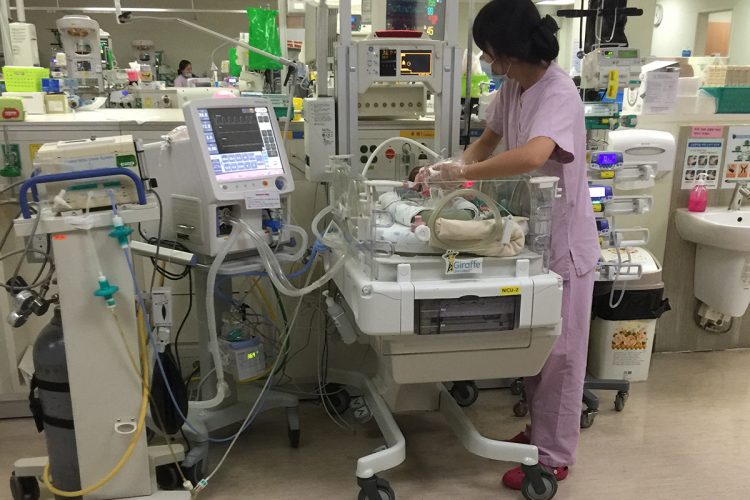 "Vibrant Habataku Small and Medium Enterprises 300" is a program run by the Ministry of Economy, Trade and Industry to commend the small and midsized enterprises (SMEs) and small businesses making their presence felt through unique technologies, services or business models, and aiming to make their efforts known to the general public. One company recognized under this program has worked to help people worldwide during the coronavirus pandemic.
Work with auto parts maker
In April 2020, ventilators were increasingly hard to come by at clinics and hospitals as the coronavirus pandemic was spreading across the globe. One company that responded to urgent calls to deliver ventilators was Metran Co., a manufacturer based in Kawaguchi, Saitama Prefecture.
The company uses a unique technology called high-frequency oscillation (HFO) that can be used for assisting newborn or premature infants, taking their delicate respiratory organs into consideration. Its products are used in about 90% of neonatal intensive care units in Japan's hospitals. A 2018 report by UNICEF found babies born in Japan have the best chance at survival in the world. The world's lowest newborn mortality rate is no doubt supported by Metran's ventilator. But elsewhere, there are no small number of cases in which newborns or premature infants are exposed to the risk of losing their lives. Metran, which already had a production facility in Vietnam, has in recent years embarked on an all-out endeavor to develop overseas markets.
To respond to METI's call to boost production of medical equipment following the outbreak of the novel coronavirus, in April 2020, the company launched a project to manufacture ventilators for COVID-19 patients using a production facility and human resources of Marelli Corp., a major auto component maker known formerly as Calsonic Kansei Corp. Marelli supported Metran on procurement of components and product assembly, which were affected by interruptions in supply chains. The project proceeded at an unusually fast pace. Production lines were quickly set up at Marelli's Kodama plant in Saitama Prefecture, and mass production started by the end of June. Ventilators manufactured at these lines were supplied to not only Japanese locations, but also to other countries, including Vietnam, Bolivia, the Kyrgyz Republic and Indonesia.
Critical medical technology
"We mainly manufacture ventilators, but we also handle oxygen concentrators," Metran President Dan Nitta said. "We have never before seen such a strong demand for our products, and it is very satisfying to be contributing to society in this way." Nitta faced the pandemic soon after he took the helm of the company in December 2019. Facing surging orders and the global spread of the infection, he scrambled to boost production. Currently, he is working on a second joint project with Marelli, to market a new type of face mask that blocks virus intrusion using an air curtain. The product, which supplies air cleaned using a high-performance filter, is targeted at workers in areas with a high risk of infection.