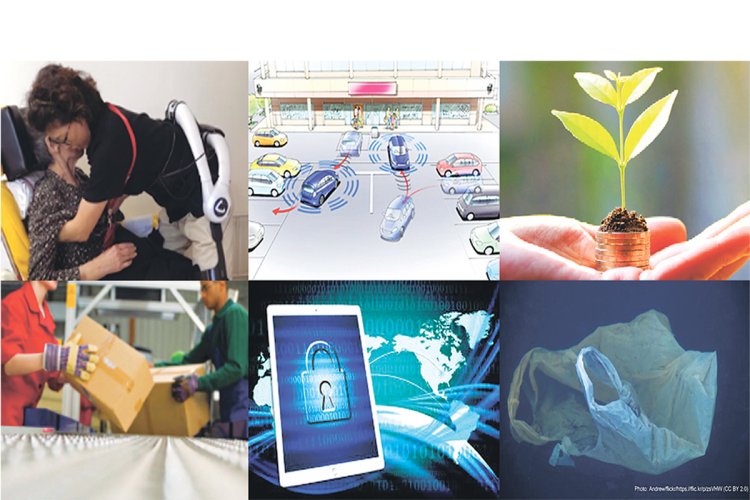 Mirroring social changes
Upon hearing the word "standardization," many Japanese would probably be reminded of the Japanese Industrial Standards, commonly known as JIS.
The JIS mark is found on industrial products used at manufacturing sites. People also see certified JIS marks on common items such as batteries and notebooks. However, what standardization means, as characterized by JIS, has changed over time, and the meaning is still evolving.
Japanese pictogram designs such as those for baggage claim, first aid and nursing rooms typically found at airports, stations and commercial facilities were overhauled in July 2017.
The pictogram revisions, in anticipation of the Olympics and Paralympics next year, were made so that the signs would be easier for inbound travelers to understand. Fifteen new pictograms were added, representing wireless LAN, mobile phone charging stations and ATMs for overseas cards, among others.
Those with children attending nursery school might have received instructions from child care providers, such as, "Please don't dress your children in hooded clothing." This is because drawstrings typically found on such clothing pose a potential strangulation hazard if accidentally hooked on play equipment.
It is surprisingly difficult, however, to find outerwear free of these drawstrings. The newly implemented JIS standard for children's clothing therefore requires manufacturers to be aware of safety; for example, the clothes won't have drawstrings around the head or neck.
A standard is a voluntary rule based on agreement from various stakeholders. But once it is regulated or is introduced to a system, the standard becomes mandatory, prompting wider societal usage. It goes without saying that consumers have better options to choose from, once the development of products compatible with such standards proceeds.
Services, data now covered
The Industrial Standardization Act was established to prompt improvement in the quality of industrial products and a streamlining of production in the reconstruction period after World War II. After an ongoing transitional period coping with environmental issues and economic globalization, the act's role and purpose are now at major turning points.
JIS used to apply only to Japanese manufacturing, but various factors have necessitated a transformation of its full potential. Such factors include the arrival of a fast and evolving "connected society" centered around digital technology, social requirements for corporate activity in the environmental area and increased interests in the standard as a method of assessment.