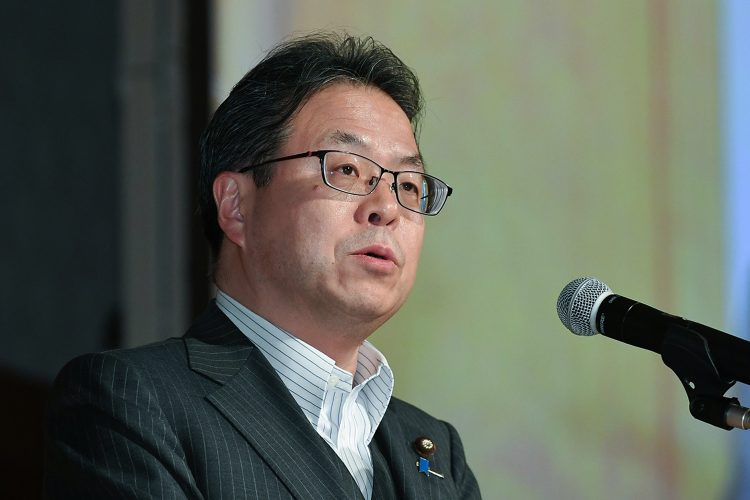 Unique economic progress
At a symposium in early May titled, "TICAD 7 Preview: New Strategy for African Business," held in Tokyo and hosted by Nikkei Inc., remarks by panelists presented a new environment in Africa. (TICAD stands for Tokyo International Conference on African Development that is led by the Japanese government. TICAD 7 will be held in Yokohama from Aug. 28 to 30.)
"It is essential to prepare a new model for overseas development to acquire business opportunities in Africa that is set to realize an economic development that is different from any other region in the world," said Minister of Economy, Trade and Industry Hiroshige Seko at the symposium.
Touching on the ongoing changes in Africa, Seko suggested he would support private-sector businesses with new policies.
African businesses under Japanese companies are thought to experience a momentum boost every three years when TICAD is held. But this year, it seems the prospects are different.
The difference is the ongoing digital revolution in Africa. The power of technology has created new services to overcome the region's unique challenges such as the lack of electricity and fragile infrastructure, which is good news that could contribute to an improvement in the business environment for companies.
Additionally, development potential can be seen in other areas.
In Africa, the demographic that accounted for the majority of the population was that of the so-called informal sector; namely those who did not have their own addresses or bank accounts. For companies adopting business models in developing countries, it was considered difficult to establish such a demographic as their customers. However, thanks to a major revolution that has seen the spread of mobile digital technology across this demographic, those people suddenly emerged as possible customers, believed to number about 1 billion.
For example, emerging services in Kenya, such as cash transfers utilizing text messages through mobile phones or provision of "virtual" addresses, have provided potential consumers who previously had no means to prove their credibility opportunities to go mainstream.
Through technology, private sector companies have increasingly provided alternative services in fields where governments are incapable of facilitating sufficient social infrastructure. One example of this is a service to supply electricity to areas that have no access to conventional power grids. Most of the main players who provide these innovative businesses are startups with a short history.