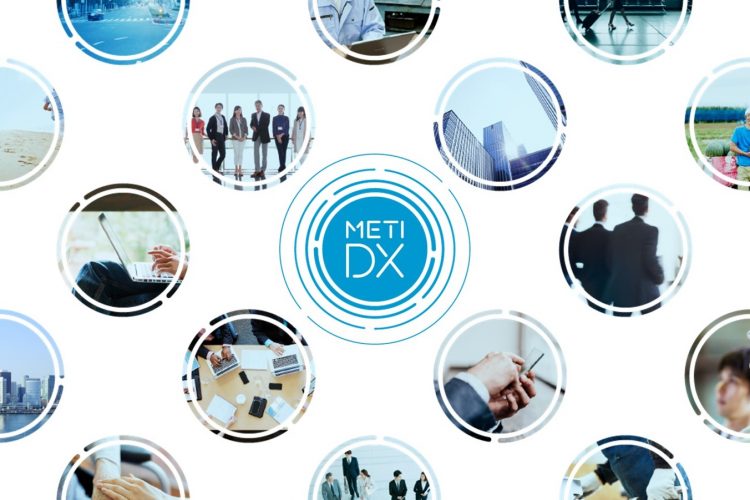 'One-stop, once-only' service
In July, the ministry established the METI Digital Transformation (DX) Office. Under the premise of promoting digitalization, it serves as a working unit to improve the convenience of administrative services for corporate bodies and to systematically advance policy planning based on data and service improvement.

Behind the establishment of the DX Office lies such awareness as, "It's not too much to say that the government is the biggest obstacle (in the way of digitalization)."

Today, it is commonplace that people can receive a variety of daily services with just a smartphone. On the contrary, administrative procedures are still mainly handled through massive amounts of paper and an actual window. Such processes put a tremendous burden on people who have to spend their valuable time completing such procedures, among other things.

Many people have likely experienced the inconvenience of going to various offices to compile the necessary documents for an application. The windows are often crowded and visiting them over multiple days right after the offices open — when they aren't so busy — is difficult.

In the case of a subsidy application, people need to first obtain a certificate of registered matters at the Legal Affairs Bureau before visiting the relevant ministries with necessary documents. They then need to wait until screenings are complete. Upon receiving approval, they need to visit the offices once again. The whole system is not designed for people to obtain support quickly when they need it.

What the government is promoting now is a streamlining of administrative procedures and an improvement of the procedural experience from a user's viewpoint. These efforts, once realized, are represented by what's called one-stop service, in which people can complete an administrative procedure following a visit to just one website. It's also what's known as once-only service, which requires no resubmission of information after it has been submitted once. The realization of such services would not only improve the convenience of users, but also lead to work-style reform on the administrative end through the promotion of procedural streamlining.

Service change based on data

Another driving force on this front is the accelerating flow of global digitalization. Giant platforms such as Google LLC, Apple Inc., Facebook Inc. and Amazon.com Inc. — collectively known as GAFA — have taken the lead and developed user-friendly services through analyzing enormous amounts of data.
Such ideas can be applicable to policy planning. There are many clues in the information submitted by companies and citizens on the formulation of various policies, who are the recipients of administrative services. Analyzing it could potentially lead to high value-added policy formulation. Additionally, it could possibly give recommendations of services to a user depending on their needs through push notifications.

Economic circles have great expectations for the efforts of DX. NEC Chairman Nobuhiro Endo noted: "The value to be obtained from DX efforts would not be a partial optimization for a unit of a company or administrative office. A state-level effort is essential to create that."

"In a digitalized era where abundant data would drive economic growth, what matters for Japan to maintain an international competitive edge is the initiative of its government," Endo said, stressing the significance of DX.

If the public and private sectors could share and utilize data, the effort would expand possibilities to more efficiently provide greater convenience in services at the social end as well.

Overcoming past discussions

In the past, there were a wide range of initiatives and plans on the digitalization of administrative processes. What is particularly still fresh in people's minds would probably be the e-Japan Strategy announced in 2001. The initiative called for realization of a nation featuring the most advanced information technology in the world.

In administrative efforts of the past, most cases dealt with direct digitalization of existing procedures. But what the government now aims for is to improve customer satisfaction by reviewing the whole concept of the public administration reflecting their viewpoints. In addition, the goal includes facilitating a social environment to produce newly added values through having a collaboration of data and service organically.

The Digital Government Action Plan crafted in January 2018 calls for the introduction of a system conducting administrative procedures via electronic application in general so people can receive such services anytime and anywhere. It also seeks to revise relevant laws and regulations to abolish submission of documents necessary in administrative processes. Additionally, it plans to introduce an identification measure in line with a revised procedure on the premise of digitalization.

METI is promoting its efforts to build a common corporate authentication infrastructure that enables companies to conduct administrative procedures with just one ID and develop a subsidy application system. METI plans to test it for its procedures from fiscal 2019, aiming to spread the initiative to other ministries and agencies from the following fiscal year.

Through these efforts, the government seeks to establish a corporate digital platform that would enable all corporate administrative procedures to be completed digitally.

In working to reform administrative services based on the Digital Government Action Plan, it has been reviewing past policies.

Although past initiatives have contributed to the advancement of infrastructure development such as that for broadband, the action plan pointed out, "it was not necessarily the case that they have produced full impact in terms of concrete values for customers, such as the improvement of usability in their application procedures and betterment of business surroundings." Additionally, the plan notes that digitalization itself is not a goal, reiterating the intention to materialize a service design-oriented idea based on customer needs.