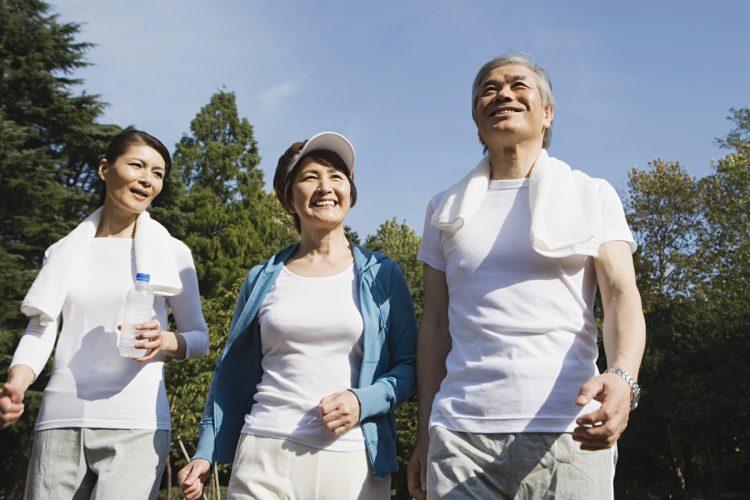 Imminent 100-year-life era

The average life expectancy of Japanese people in 2017 hit a record high. The average for women was 87.26 years, second in the world after Hong Kong. Though it fell one place to third in the world, the average life expectancy of men was 81.09 years, surpassing 81 years for the first time.

The average life expectancy in a particular year is a benchmark representing how many more years an infant born in that year would live, assuming fatality rates would remain unchanged.

According to a Ministry of Health, Labor and Welfare estimate, the ratio of babies born in 2017 who would reach the age of 75 is 75.3 percent for men and 88.1 percent for women. Additionally, the ratio expected to reach the age of 90 is 25.8 percent for men and 50.2 percent for women; both record highs. It's accurate to say that Japan is soon to enter an era of the 100-year life.

Although Japan is one of the countries in the world with long-lived people, some are not necessarily happy about their longevity. While old age is supposed to be pleasant, people are worried about future insecurities such as medical issues and nursing care.

Additionally, the discrepancy between healthy life expectancy, in which people can live independently, and the average life span did not shrink. There have also been concerns over health disparities caused by differences between living environments and social circumstances.

The ideal is to have equal average life spans and healthy life expectancies. If the latter moves closer to the former, it would not only contribute to the improvement of an individual's happiness, including quality of life, it would also have a substantial effect on society itself. This is because the social participation of the elderly would help solve the social security system's pension issue, fiscal problems of health insurance and the labor shortage.

Positive cycle for health

It is necessary to address how each individual can build a habit to maintain their health, enabling them to be part of society long term by staying healthy. Additionally, how society, driven by the private sector, can create a positive cycle of maintaining one's health through social participation is also being examined. The focus of the nation's policies is now moving toward these points.

Extending the country's healthy life expectancy was proposed in the Japan Revitalization Strategy announced in 2013. Afterward, in the Future Investment Strategy 2017, it was chosen as one of the key fields to achieve economic growth by actively utilizing innovative technology. The 2018 edition of the investment strategy went on to add a new goal of having the annual increase of healthy life expectancies surpass that of life spans.

Some of the concrete measures listed in the strategy include an industry-academia-government collaboration to comprehensively work on early prevention of dementia to livelihood support. It also features a policy to reinvigorate the health care industry by prompting the creation of overall solutions from prevention and treatment to care.

Today, health care has shifted to prevention and care at pre-symptomatic states, in addition to treatment. Additionally, health care is expected to transform from uniform treatment to personalized care. Ideas and momentum from the private sector could be further utilized for measures to prompt individual self-help.

Public-private sector efforts

In response to these trends, or pre-emptively addressing them, efforts from the public and private sectors are growing.

In Japan, companies have been conventionally required to monitor employee health. However, the idea of health management has gradually helped introduce the notion that it contributes to the improvement of revenue and productivity, if employee health is reviewed from the management point of view and strategically addressed.

A string of insurance products have been developed featuring concepts of contributing to promoting health and improving life practices. Municipalities are increasingly implementing health promotion projects for residents by effectively spending their budget, along with the utilization of private money. Additionally, breakthrough innovations are increasingly taking shape, which could lead to streamlining medical and nursing care systems and better health.
Seeking to create a health care industry that would address a wide variety of public health needs, the Ministry of Economy, Trade and Industry has held the Japan Healthcare Business Contest, which encourages the sustainable growth of health care businesses. Through this contest, the ministry is supporting the growth of startups in this field.

A new tide is surging toward the health care area and Japan must find ways to expand that tide.