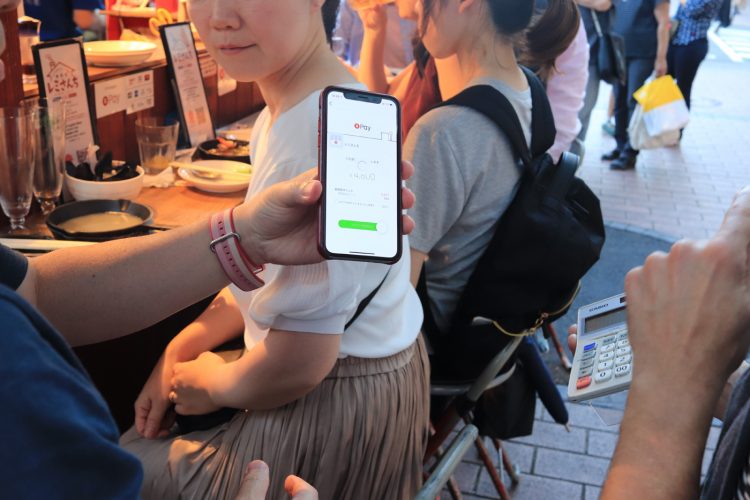 Smartphone payments heat up
A major experimental project on cashless payments using QR codes has been underway at Fukuoka's yatai food stalls, which are iconic features of the city. Some stalls even accept Alipay, a smartphone payment platform with more than 500 million active users in China, in addition to similar services provided by Rakuten Inc. and Line Corp.
Fukuoka Mayor Soichiro Takashima pledged to "create a new money flow from a local city."
The city plans to increase the number of locations that accept payments via smartphone such as payments at public and commercial facilities, food stalls and taxis.
Cashless payments collectively refer to means of non-cash transactions. Other than credit cards, electric money and mobile wallets such as osaifu keitai (cellphone wallet), smartphone payments utilizing QR and bar codes have been rapidly gaining popularity.
The code payments are conducted through various means, including charged cash in applications, bank accounts and credit cards. Its advantages lie in convenience, as users can use the service once they obtain certain apps regardless of their smartphone model. Code payments do not need to depend on near-field communication standards such as FeliCa that is used in osaifu keitai. Offering less burden for shops, code payments offer functions for not only settlement, but also cash transfers and bill splitting; features that credit cards don't offer.
There are basically two types of code payments. One is that customers are asked to show a code on their smartphones, which is read by the shop's device, while the other has customers read the code shown by the outlet. Related internet companies have competed in showcasing their functions and services to court customers through these payment systems, aiming to establish their own "economic sphere."
In line with these moves, there are growing groups of customers who receive advantages for cashless payments, such as discounts, point reward systems and decreased time for payments. On the other hand, compared to the rest of the world, the cashless economy has not made much progress in Japan.
Low cashless payments ratio
Cashless payments account for about 90 percent of transactions in South Korea, known as the most advanced country in introducing the technology, with the ratio ranging from 40 to 80 percent in other developed nations. Meanwhile, the ratio stands at just 20 percent in Japan, making it unique in the world as a cash-based country.
One of the reasons behind the low ratio might be attributed to Japan's typical "good aspect." This includes the well-maintained public peace, high public trust in cash thanks to relatively clean bills and few counterfeit bills, and a well-structured financial infrastructure such as automated teller machines.
Additionally, there are some Japanese who choose not to use credit cards out of concern over personal information leaks, and also to avoid overspending. Some small retailers are not willing to accept credit card payments as it requires an initial outlay to install relevant devices, as well as service charge costs.
On the other hand, the trend in the world is toward cashless payments. Especially in China, using smartphones for any payments — from eating and drinking at street stalls to purchasing luxury items — have become prevalent through services such as Alibaba Group Holding Ltd.'s Alipay and WeChat Pay by Tencent Holdings Ltd. that operates the messenger app WeChat. This is because the number of shops accepting such payments has explosively increased. These apps have become daily necessities, expanding beyond payment infrastructures.
Alipay was introduced in 2015 in Japan as an essential platform to attract Chinese customers who are already familiar with such a payment environment. Around 50,000 outlets, including convenience stores, department stores and drugstores, have already introduced the service. What pushes this is the compelling desire of outlets seeking to accommodate the needs of Chinese tourists.
At the moment, those who want to use Alipay need to open a bank account in China. But if this situation changes with Alipay allowing Japanese, not visiting Chinese travelers, to use its service in Japan, some Japanese business operators have concerns that overseas business giants could deprive them of Japanese customer information.
Sense of crisis
Japan could be left out as an underdeveloped country in terms of cashless payments if it fails to catch up with this international trend. The national government also has a profound sense of crisis toward Japan's current situation. What got the ball rolling toward widespread prevalence of cashless payments in Japan was the Cashless Vision report, compiled by the Ministry of Economy, Trade and Industry in April.
This report sets an ambitious target of raising the ratio of cashless payments to 40 percent by 2025, pointing out that necessary infrastructure should be put into place to increase convenience and boost a sense of security.
In July, a promotion association featuring an "all-Japan" effort was launched with participation from industrial, public and academic sectors. Relevant parties are accelerating the creation of systems that would offer benefits to various users and business operators, including standardization of QR codes and efforts to go paperless in cashless payments.
Movement toward the extensive introduction of cashless payments has just started in Japan. Countries with an advanced rate of cashless payments have a history of working toward such a direction with national determination, in which there were a variety of factors intertwined; these include the individual economic situation and social background at the time. Studying each country's situation could probably show an indication of what kind of cashless society Japan should aim for.