10/28/2021
Tokyo 'Beyond-Zero' Week seeks to decarbonize world
Collaboration for innovation
To achieve carbon neutrality and the beyond-zero goal, it is essential to accelerate research and development on innovative technologies still awaiting use, test them and promote their use in wider society. A key to realizing this is the activities of entities and individuals engaged in clean-energy R&D.
Following the Group of 20 summit it hosted in 2019, Japan launched the RD20 conference. RD20 aims to help create a decarbonized society by bringing together leaders of G20 entities researching clean energy technology and promoting R&D through international cooperation.
The Global Zero Emission Research Center, dubbed GZR, manages the RD20 conference and was established in 2020 with Nobel laureate Akira Yoshino as director by the National Institute of Advanced Industrial Science and Technology, (AIST), one of Japan's largest public research bodies. GZR runs an international joint research center in Tsukuba, Ibaraki Prefecture. It also works with the Fukushima Renewable Energy Institute, established in 2014, on R&D projects for technologies including next-generation solar cells, artificial photosynthesis, hydrogen and carbon capture, utilization and storage, aiming to contribute to the decarbonization of the world.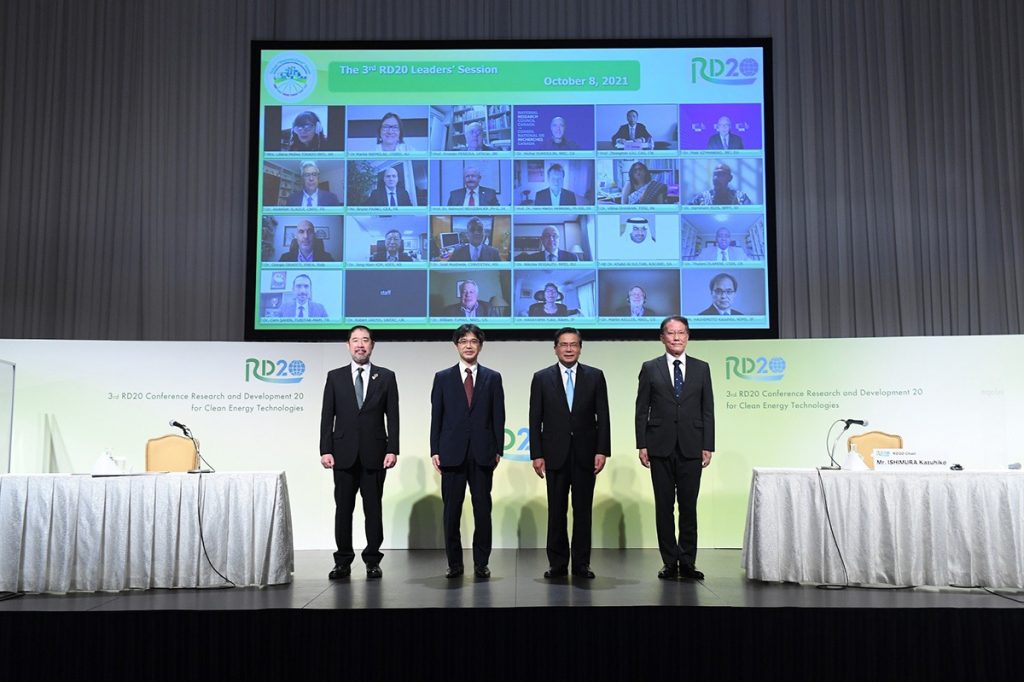 The RD20 leaders' session on Oct. 8 was attended by the leaders of 24 organizations from 20 countries who discussed issues regarding collaboration and its promotion. They voted to adopt a leaders' statement reflecting the opinion that international collaboration toward achieving carbon neutrality should be promoted in broad areas and in the form of workshops, human resources development, fundraising and rules debate.
During RD20 technical sessions held before the leaders' session, researchers with cutting-edge knowledge participated in a panel discussion on three themes: decarbonization by sector, social acceptance of hydrogen and next-generation energy management systems. All of these areas have high priority in the carbon neutrality debate.
This year's conference also saw the launch of the Taskforce, which is aimed at promoting international collaborative research projects under the RD20 framework. The Taskforce will have subgroups, each addressing a specific theme. The subgroups will bring researchers from organizations participating in RD20 together to discuss and form joint research projects.
"Before RD20, there were no forums where key members from research institutes around the world could come together and discuss international collaboration, specifically on clean energy technologies" AIST President Kazuhiko Ishimura said. "I hope RD20 will serve as a platform for global collaboration, and create new innovations for achieving carbon neutrality."
The organizers of RD20 aim to strengthen collaboration between participating organizations for the goal of creating an environment that supports active research activities and produce international joint research projects.