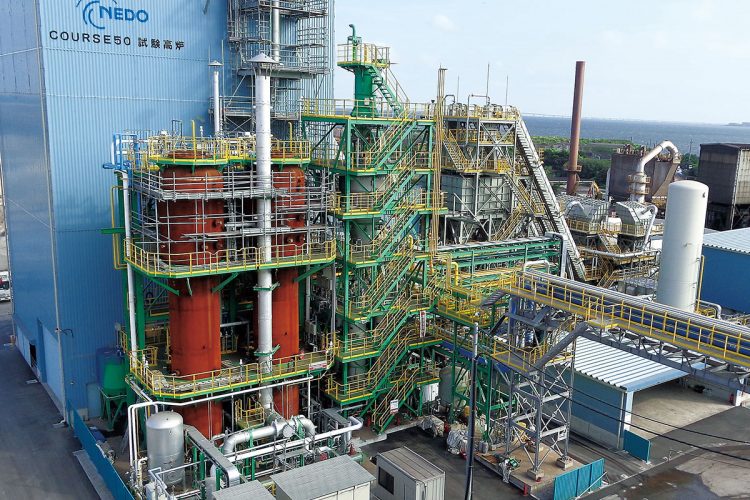 We may be facing a milestone in the grand scheme of technological development as we move toward the year 2100.
The stage is set at the Kimitsu Area of Nippon Steel Corp.'s East Nippon Works in Kimitsu, Chiba Prefecture. Course 50 is a project aimed at reducing carbon dioxide emissions from the process of making iron, jointly promoted by four companies, including Nippon Steel and JFE Steel Corp., as well as the Japanese government. The project's goal is to reduce the amount of emissions by 30% by combining technologies that reduce carbon dioxide generated in blast furnaces and separate and collect any carbon dioxide that is generated. Researchers have concluded that the reduction target is reachable, and at a test blast furnace, a reduction process using hydrogen, the project's core technology, has reached a phase where researchers are working to find ways to apply it for practical use.
Promising technology
Blast furnaces, used in the upstream of the steelmaking process, use coke, made by heating coal in the absence of air, to eliminate the oxygen contained in iron ore. Carbon dioxide is discharged in the chemical reaction. But by substituting hydrogen for a part of the role played by coke, water is created instead of carbon dioxide. This technology, called hydrogen reduction, is regarded as a promising weapon for combating global warming. At this point, hydrogen used in the project is a byproduct generated in the process of manufacturing coke. That means the test achieves recycling of resources within a steelworks. In the past, hydrogen from a coke oven at Nippon Steel's Nagoya Works was supplied to fuel some of the buses going between venues of the World Exposition in Aichi Prefecture in 2005.
More than 10-year endeavor
Efforts to develop a steelmaking process using hydrogen, which has a low environmental load, are also underway elsewhere in the world, including efforts by Europe's ArcelorMittal SA. Having worked on the project over the last 10 years, however, the Japanese group is ahead of rivals.
"The phenomenon itself has been known for a long time. People in different countries are competing against each other on how to take advantage of it in practical applications as the next-generation iron-making process," Hideki Murakami, a fellow at Nippon Steel, said. As he implied, it is not easy to find ways to use it in actual operation according to principles of reduction mechanisms and reaction controls that have already been confirmed, while at the same time improving precision.
Seiji Nomura, another Nippon Steel fellow who serves as the Course 50 project leader, said: "At the test blast furnace, we gradually raised precision through the combination of experiments and simulation models, adjusting how much — and from where — hydrogen-based gas is injected into the blast furnace and exploring ways to control reduction reaction, which changes over time. After much trial and error, we successfully reduced carbon dioxide by 10%. A major issue was that the temperature inside the blast furnace dropped as hydrogen reduction reaction progressed."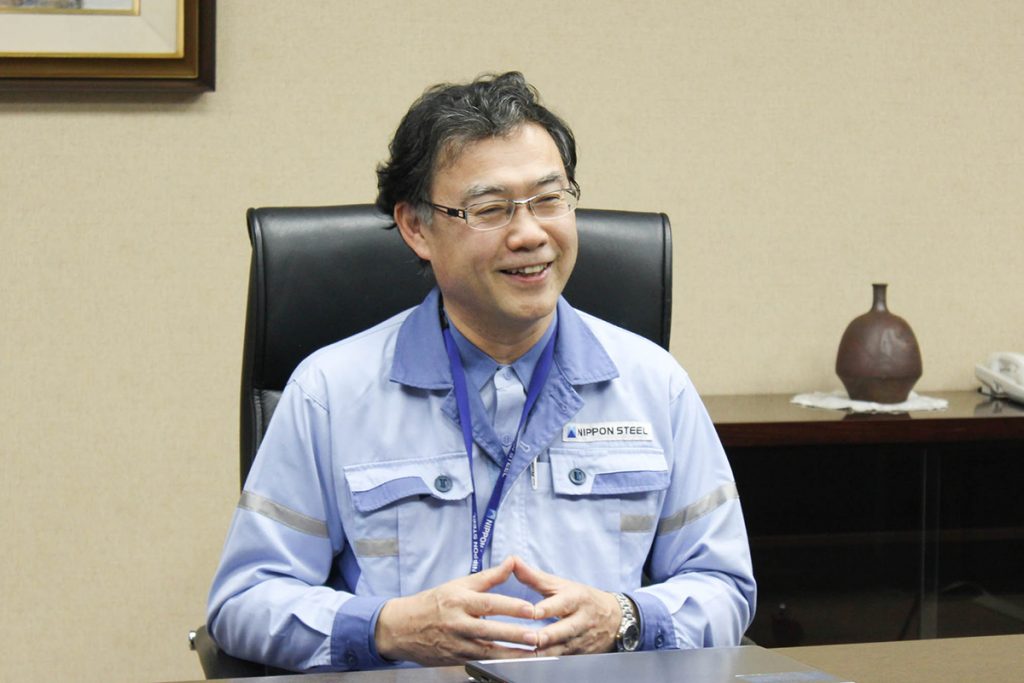 The test blast furnace is one of the largest of its kind in the world. "Our tests are going into unknown territory," Nomura said. The project aims to complete the first commercial unit by around 2030, assuming, by then, the infrastructure for storing carbon dioxide will be ready and it makes economic sense to use it. It further aims to make sure the technology will be in wide use by around 2050, assuming it will replace existing pieces of equipment as they reach the end of their useful life.